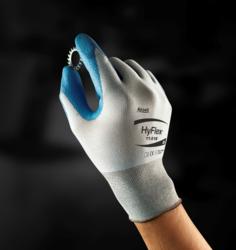 In field trials the 11-518 was preferred by nearly 70% of workers now using heavier gloves for similar tasks, a comfort preference that correlates with compliance.
Red Bank, NJ (PRWEB) July 12, 2012
Ansell, a global leader in health and safety solutions with more than a century of expertise, has added a new, first-to-market glove to its record-setting HyFlex® series: the HyFlex® 11-518. Providing wearers with a barehand-like sensation without compromising cut protection or performance, the ultralight HyFlex® 11-518 glove is rated for ANSI Cut Level 2 protection, making it ideal for precision handling and assembly of sharp, dry, ultra-fine parts.
The ultralight duty style HyFlex® 11-518 is the first glove in the market to combine the mechanical protection properties of ANSI Cut Level 2 - associated with heavier duty gloves - with a remarkably comfortable, cut-resistant and multipurpose 18 gauge style. Recently introduced, Dyneema® Diamond Technology's fine, 220 denier, cut-resistant yarn is applied using Ansell 3D knitting technologies and finished with a tough polyurethane coating, to deliver ANSI Cut Level 2 and ANSI Abrasion Level 3 in a lightweight and breathable fit and feel. In field trials the 11-518 was preferred by nearly 70% of workers now using heavier gloves for similar tasks, a comfort preference that correlates with compliance.
"Innovation is the hallmark of the HyFlex® glove range legacy, and the first-to-market HyFlex® 11-518 is the first of several additions we are making to this popular series to bring greater comfort and protection to workers around the world," said Scott Corriveau, President of Ansell's Industrial Global Business Unit. "The new HyFlex® 11-518 glove emphasizes Ansell's commitment to better protect workers and to increase productivity within the workplace by offering a lightweight glove that maximizes dexterity, tactility and protection."
As the world's best-selling precision assembly glove, Ansell's HyFlex® glove series empowers millions of workers around the world to do their job more effectively, more comfortably and more safely every day. The multipurpose HyFlex® 11-518 has applications across industries including machinery and equipment, metal fabrication, electrical machinery, automotive and automotive OEM, white goods, packaging, aerospace and transportation.
"Since 1996, our vision for the HyFlex® brand — to empower workers with gloves that provide an ideal balance of safety, comfort and performance — has never wavered," said Magnus Nicolin, CEO of Ansell. "Ansell is committed to researching and developing new ways to ensure that our HyFlex® series is the number one choice for workers across the globe."
In the 15 years since its launch, HyFlex® has gained critical recognition and market share for its winning combination of ergonomic design, comfort and superior mechanical protection. Today, the HyFlex® range extends to 31 individual styles, ensuring that there is a glove that fits every worker's job performance requirements and comfort expectations. For more information about the latest addition to the HyFlex line of work gloves, visit http://www.ansellpro.com.
About Ansell
Ansell is a world leader in providing superior health and safety protection solutions that enhance human well being. With operations in North America, Latin America, EMEA and Asia, Ansell employs more than 10,000 people worldwide and holds leading positions in the industrial and medical gloves markets, as well as in the sexual health and wellbeing category worldwide. Ansell operates in four main business segments: Medical Solutions, Industrial Solutions, Specialty Markets and Sexual Wellness.