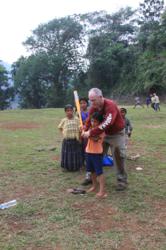 Academy's Service Expedition is an industry-leading sales incentive program designed to give qualifiers a more meaningful and altruistic experience than the typical lavish sales incentive trip.
Salt Lake City, Utah (PRWEB) July 17, 2012
In today's business climate, financial companies across the United States—including mortgage lenders—are reevaluating how they recognize and compensate their highest achievers, often as result of increased government and public scrutiny. Academy Mortgage recently offered its top loan officers a unique corporate bonus that few would look at with skepticism.
This spring a group of 50 loan officers, executives, and other company representatives participated in the first Academy Mortgage Service Expedition, a reward for the company's top-performing loan officers unlike any other in the mortgage lending industry.
Academy's Service Expedition is an industry-leading sales incentive program designed to give qualifiers a more meaningful and altruistic experience than the typical lavish sales incentive trip. The program rewards those who do well in the business with an opportunity to do good for a community in need. Academy accomplishes this by partnering with communities and villages who have demonstrated that they have the leadership, the capacity, and a sustainable model for economic improvement.
"Not too many organizations would take its profits and give back in a way like this," said loan officer Matt Hickman of St. George, Utah. "I began this trip knowing that it was a privilege to be a part of the Expedition, but after experiencing it, I now have an even greater drive to qualify and participate every year. It forces you to take a step back from your everyday life and do something for someone else that you normally wouldn't do. You find yourself when you give of yourself."
The destination of this first Expedition was the remote village of Secanquin, Guatemala—an isolated poverty-stricken community located in the Cloud Forest Region that is home to an indigenous population of just 200. Secanquin has no running water, schools, or medical facilities.
"As I walked through the villagers' homes, which literally were constructed of four wooden-slat walls, a corrugated tin roof, and a dirt floor which they had 'swept' in sprucing up for our arrival, I saw the tremendous amount of pride the villagers take in their homes," said loan officer Jason Klaskin of Harleysville, Pa. "I see this same pride in my borrowers as they showcase their new homes. Despite the drastic differences in our circumstances, we ultimately all share the same feelings and emotions."
During their week-long stay in Guatemala, the Expeditioners were tasked with constructing the village's first running water system, laying the foundation for new infrastructures, and assisting in medical and dental care for the villagers. They were digging trenches, moving boulders, and literally pulling teeth, after undergoing training, to help accomplish these goals. They slept in tents located in a field within the village and spent their free-time bonding with the locals by playing soccer, coloring with the children, and even partaking in their sacred Mayan rituals.
"Participating in the Service Expedition definitely brought me a healthy dose of perspective," said loan officer Damon Johnston of Lakewood, Colo. "I was amazed to see the stark contrast between the villagers, who lack nearly all material possessions, and us, who often perceive these possessions as 'necessities.' The villagers are extraordinarily content and happy, despite the conditions they live in and without access to the things we take for granted. The little things that used to bother me somehow don't anymore."
All of Academy's employees across the country played a role in this service initiative for Secanquin, as they helped the company raise over $100,000 to fund the construction of the water system as well as a schoolhouse and health center in the near future.
"In Secanquin, we saw a tremendous opportunity to commit our time and resources to help improve the lives of those whose circumstances are very difficult," said Adam Kessler, president of Academy. "Serving others, whether through the mortgage products and solutions that we offer or through the initiatives of the Academy Mortgage Foundation, is an essential part of who we are."
Academy has committed to future trips to Secanquin in its overall effort to help this village become a self-sustaining community and will continue organizing bi-annual service-based trips as the foundation for its rewards and recognition programs. More information on Academy's innovative rewards program can be found at http://www.academymortgagefoundation.org.
About Academy Mortgage
Since 1988 Academy Mortgage has provided exceptional service and the best solutions and tools to help individuals and families achieve successful homeownership. The company is recognized and respected nationwide for its unwavering commitment to responsible lending, especially in today's rapidly changing economy. Academy Mortgage is currently the #1 Independent Purchase Lender in the United States.
Academy Mortgage is headquartered in Salt Lake City, Utah; has 123 branches across the country; and is licensed to process loans in 40 states. For more information, please visit http://www.academymortgage.com.