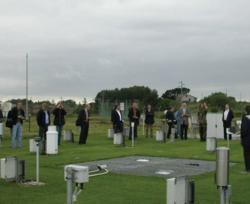 WMO had recommended certain standards and best practices to its members ... some meteorological services did not necessarily follow the recommendations.
Geneva, Switzerland (PRWEB UK) 13 July 2012
The Association of Hydro-Meteorological Equipment Industry (HMEI), which facilitates interactions between the World Meteorological Organization (WMO) and private industry manufacturers, marketers, and sellers of hardware, software solutions, systems, and related support services, has now entered into a partnership with the International Standards Organization (ISO). Climate, weather and environment related risks pose grave danger to life as we know it irrespective of geographic or cultural boundaries. This makes it necessary for world governments to work together to formulate mutually beneficial risk mitigation strategies. The lack of standardised climate and weather measurement devices often hampered endeavours on this front. HMEI's partnership with ISO, however, will now enable the two organization to successfully promote and contribute to worldwide standards in this field.
The HMEI Secretariat says in a recent article, "Over the last decade, we have seen significant changes in the way measurements and data for hydro-meteorology are considered. Organizations that operate in the weather, environment and climate sectors are now demanding greater accuracy and consistency in the data and information made available to them."
Existing hydrological and meteorological measurements criteria are designed to meet short to medium term weather forecasting requirements. The changing global perspective on climate issues has, however, led to an urgent rise in demand for real time intelligence that can prevent or mitigate the effects of natural disasters resulting from climatic changes. The standardisation that ISO and WMO hope to introduce is expected to address this requirement and enable the world's environmental decision making process. HMEI officials say, "WMO had recommended certain standards and best practices to its members. Since these were not official standards, some meteorological services did not necessarily follow the recommendations. This was when we felt the need to put in place international standards for the hydro-meteorological industry."
HMEI entered into a partnership with ISO as it felt that the standards proposed by an esteemed international body would offer greater industry credibility. The partnership with ISO is expected to provide HMEI members several business benefits. For instance, manufacturers that can make instruments and equipment to accredited ISO standards will benefit from economies of scale. In the past, manufacturers of hydrological and meteorological measurements instruments had to adhere to specifications provided by individual companies. Since these specifications varied across organizations, it limited the ability of the manufacturers to produce instruments in bulk quantities. Standardisation will do away with this need to meet individual specifications and enable production in larger quantities. This will, benefit all parties. It will considerably reduce manufacturing costs thereby providing them better margins while still selling the equipment to buyers at a much lower cost.
This partnership will see WMO become an ISO recognized international standardization body with procedures in place for the accelerated adoption of WMO documents as ISO standards.
About HMEI
HMEI is an association originally formed at the suggestion of the then Secretary General of the World Meteorological Organization (WMO), to facilitate interaction between WMO and private-industry manufacturers of instruments. HMEI has a head office located in the WMO building in Geneva. However, it is an independent non-profit association, funded only by its members. HMEI promotes the perspective of the private industry makers of instruments, equipment, and systems in the meteorological, hydrological, environmental, climate and related fields, who are its members.