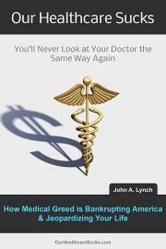 Healthcare reform leaves largely unaddressed the ethical breakdown in American medicine that permits the deceptive practices described in Our Healthcare Sucks.
Framingham, MA (PRWEB) July 13, 2012
MedSmart Members has released a Kindle version of its first publication – Our Healthcare Sucks. Noting the rise in Kindle reading devices, the book's author, John Lynch, stated "This will allow more readers to access Our Healthcare Sucks at a discounted price to the pdf version available at OurHealthcareSucks.com".
While the Kindle version lacks most of the graphics and textboxes found in the pdf version, the content is identical – and the message is the same. Assuming healthcare reform survives its political challenges, it will make inroads in correcting some of the bigger flaws in America's healthcare system. But it leaves largely unaddressed the ethical breakdown in American medicine that permits the deceptive practices described in Our Healthcare Sucks.
These include:

Unnecessary surgeries and invasive procedures like spinal fusions and cardiac stent implants that literally CAUSE heart attacks;
Excessive referrals of patients to physician-owned services that one study found result in costs 7 1/2 times average medical costs for the same services; and
Defensive medicine itself, which the book calculates is an immense over-reaction by a factor of 100 to 1, especially given that malpractice claims are at record lows.
According to the book, all of these mainstream medical practices deceive patients into accepting treatments they don't need – and that may harm them rather than help them – and thereby explicitly violate the American Medical Association's Code of Ethics.
According to Lynch, "Much is made of the fraudulent research and marketing practices of 'Big Pharma' – and rightly so. But they don't operate in a vacuum. Their deceptive and fraudulent practices wouldn't prove profitable if the medical profession didn't join forces with them in over-prescribing often dubious, and even harmful, drugs at rates as high as four times that of other developed countries…
"The book documents that healthcare is the most corrupted industry in America – with fraud settlements with the federal government in 2010 that were four times those of all other industries combined. And the recent record fraud settlement with just one drug manufacturer was larger than the top ten on that list combined…
"It's not the least bit unreasonable to ask how our medical profession can align itself with such corruption and not itself be tarnished in the process."
While the book acknowledges the unethical practice of medicine in America may still be by a minority of doctors, it suggests it's a growing minority – and may already have reached a "tipping point" that adversely affects the practice of medicine generally. As a result, patients need to get educated about how to avoid being victimized, both physically and financially.
"Better access to healthcare is only of benefit if it's honest and high-quality healthcare. Otherwise, we're simply creating more victims. The evidence isn't heartening in this regard. It suggests many more Americans are dying needlessly every year from medical mistakes as from lack of health insurance…
"And a recent study in the Archives of Internal Medicine documents that 6 out of 7 well-educated and mostly insured patients were reluctant, even afraid, to voice disagreement with their doctors' recommendations even when it conflicted with their own preferences…
"Given the extent of deceptive medical practices in America, this is an ill-advised fear better replaced with an appropriate fear of often dangerous medical treatments. Unless we clean up these rampant deceptive medical practices, healthcare reform could become a case of being careful what you wish for," Lynch concluded.
Our Healthcare Sucks is available in its Kindle version at Amazon.com.
Company Information> Our Healthcare Sucks is a publication of MedSmart Members LLC - an online publisher of consumer health publications. For an overview of additional books scheduled for future release, please visit ourhealthcaresucks.com/books/.
Contact Information: To find out more about MedSmart Members or Our Healthcare Sucks, please visit OurHealthcareSucks.com or contact John Lynch via email at john(at)medsmartmembers(dot)com or by phone at 1-800-277-6514.