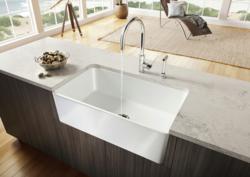 CERANA is also uniquely reversible which allows a designer or homeowner the choice of installing it with a traditional rounded or contemporary contoured look.
LUMBERTON, NJ (PRWEB) July 13, 2012
BLANCO, the German manufacturer of finely crafted sinks and faucets, adds another stunning and durable fixture to their collection – the reversible BLANCO CERANA Apron Front kitchen sink. CERANA is BLANCO's first Fireclay sink in the U.S. – made of natural material that is highly resistant to shock, heat, acid, discoloration and chips. The unique, reversible design with two different corner radius measurements adds versatility as the ultra slim sink installs to feature either a traditional rounded or contemporary contoured apron front.
The newest material in luxury is actually centuries old. Fired at an intense heat of over 2100 degrees Farenheit for up to 20 hours, Fireclay sinks were first used in the late 1800s. BLANCO CERANA keeps the tradition alive while adding modern benefits of computer aided kiln production that keeps temperatures consistent for high quality control, a tight radius and a smooth non-porous finish that is extremely durable plus easy to clean. The hand-finished CERANA combines artisan technique, high tech automation and a special recipe of fine granular materials, which give the ultra slim, sink its high mechanical strength.
"The luxurious BLANCO CERANA makes a statement on many levels," states Tim Maicher, Director of Marketing for BLANCO. "We're seeing the fusion of traditional and contemporary in kitchen design today. Comfort and durability blended with sophisticated styling. The same is true of CERANA. Age-old fireclay artisans blend computer engineering to take fireclay to the next level in slimness and functionality. CERANA is also uniquely reversible which allows a designer or homeowner the choice of installing it with a traditional rounded or contemporary contoured look. What's old is new – translating material function and traditional beauty into today's modern kitchen."
The CERANA sink has a center drain location, 9-1/4" bowl depth and can be cleaned using a non-abrasive cloth with plain warm water.
The BLANCO CERANA sink comes in two reversible apron front single bowl styles (30" and 33"), one bar bowl style (17.25") and retails from $595 to $1,295. It will be available in mid 2012 and comes with a limited lifetime warranty.
About BLANCO
For three generations, BLANCO has quietly and passionately elevated the standards for luxury sinks, faucets and decorative accessories. Proud of its European heritage and award-winning German engineering, BLANCO is steadfastly committed to their tradition of high quality, innovative design and unsurpassed service since 1925. Today, BLANCO is the only supplier in the world to produce its own sinks from start to finish in three materials. Dedicated to quality without compromise, every sink is closely inspected many times before it receives the BLANCO name.
A remarkable history of firsts emphasizes BLANCO's zeal for innovation including the first stainless steel sink to achieve a 10mm radius –STEELART® – the first to market colored hard composite sinks in North America – and BLANCO's pioneering MicroEdge™ technology with its virtual flushmount edge.
BLANCO has a long tradition of environmental stewardship and their production facilities operate to strict DIN EN ISO 14001 environmental performance standards.
BLANCO is the brand of choice in the luxury sink and faucet category for its unparalleled quality and an inspirational breadth of design possibilities. From the precision craftsmanship and artistic creativity of its STEELART brand to the stunning durability of its ground breaking SILGRANIT® collection, BLANCO has proven that the sink is far more than a mere functional element in the kitchen.
Since 1994, BLANCO has been a member of the Caux Round Table (CRT), an international network of principled business leaders and companies working to promote a moral capitalism.
For more information, visit http://www.blancoamerica.com.
For photography, interviews or questions, please call Lori Dolnick at 609-490-0999 x22 or ldolnick(at)frankadvertisingus.com.
# # #