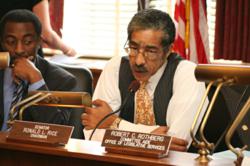 I am very concerned by the reports of abuse detailed in the New York Times series and strongly support Senator Lautenberg's call for a thorough and independent investigation. The allegations of civil rights and corrupt government and contractor practices
Trenton, NJ (PRWEB) July 13, 2012
State Senator Ronald Rice (D-28) today called on US Attorney General Eric Holder to open an independent investigation of New Jersey's Drug Treatment Halfway Houses. This request comes on the heels of series of several disturbing recent articles in the New York Times and similar call for an investigation by US Senator Frank Lautenberg (D-NJ).
"I am very concerned by the reports of abuse detailed in the New York Times series and strongly support Senator Lautenberg's call for a thorough and independent investigation. The allegations of civil rights and corrupt government and contractor practices are very serious and disturbing," stated Senator Rice.
"More troubling is the appearance of rampant government corruption," Rice added. "There is a political circle of individuals and relationships that basically controls State government and certain local governments. This circle conspires to protect itself and its members from appropriate oversight and accountability. They feel that they are untouchable. This practice must end."
The New York Times investigative series pointed out clear violations of individual civil rights and corrupt practices which undermined the integrity of the process, and the drug treatment programs and halfway houses in particular. The series titled "Unlocked" is a ten month New York Times investigation that revealed that New Jersey's privatized halfway houses have become a largely unregulated shadow correction system.
In response to the articles Rice observed: "These relationships are costing the taxpayers and federal government literally millions of dollars. It frustrates both Senator Lautenberg and me, but more importantly it frustrates the taxpayers, voters, other state and local officials, as well. I am very concerned that the federal government appears to be turning a blind eye of indifference on this matter. Today, I call on US Attorney General Holder to respond with immediate action.
State Senator Ronald L. Rice is a New Jersey State Senator representing Essex County and is a veteran of the City of Newark Police Department.
#