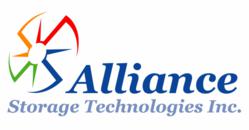 The professional data archiving solutions from Alliance Storage Technologies, Inc. are complementary to Scanfabrik's existing range of existing Document Management Solutions. ASTI's extended product offering fits perfectly within our product range enablin
Colorado Springs, CO and Verl, Germany (PRWEB) July 12, 2012
Alliance Storage Technologies, Inc. (ASTI) is aggressively and strategically adding new international partners to its reseller program to strengthen its position as the leader in professional data archiving solutions. Joining forces with Scanfabrik KG, ASTI is able to expand support to all of EMEA. With this expansion, ASTI remains in pursuit of new opportunities in the data storage market while bringing more value to their customers and suppliers worldwide. Scanfabrik KG is a value-added reseller with headquarters in Verl, Germany.
About Alliance Storage Technologies, Inc.
Alliance Storage Technologies, Inc. (ASTI) is the primary source for professional data archiving solutions worldwide that meet and exceed today's challenging regulatory demands for secure archival data. Professional solutions provide value to any industry including: Healthcare, Finance, Government, Insurance, Legal, and more. These regulatory-compliant systems preserve unaltered data for extended periods (greater than 50 years) at an exceptionally low total cost of ownership.
Scalable product offerings include: Direct and Networked-Attached (DAS/NAS) Plasmon® storage libraries, with Ultra Density Optical (UDO™) as the core technology, related Write-Once-Read-Many (WORM) media, and archive software. Best-in-class global support services are available to sustain customer installations. Additionally, a complete line of certified Plasmon® parts are available. ASTI is committed to providing every customer with exemplary customer service and support from first contact through the life of the relationship. Thousands of businesses worldwide trust ASTI quality to secure their valuable investments in corporate data.
About Scanfabrik KG
Scanfabrik KG is a value-added reseller specializing in data management, storage solutions and services, scanning technology, and enterprise content management. Based in Verl, Germany, they provide a portfolio of products and services to ensure efficient and secure administrative structures to their EMEA customers. Scanfabrik's main goal is to meet the specific needs and expectations of their customers.
For additional information, please visit: http://www.scanfabrik.de or call +49 (0)5246 926-50
For further information, please visit http://www.alliancestoragetechnologies.com , or call 719-593-7900.