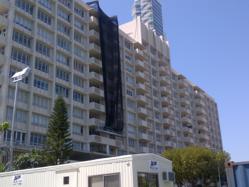 Proactively consulting with a professional engineer is critical for the required 40-year Recertification for buildings in Broward and Dade Counties and any necessary concrete restoration.
Miami, FL (PRWEB) July 17, 2012
Danto Builders has served the South Florida region for over 30 years, and was hired by Hillman Engineering to complete the concrete restoration on the Biscayne 21 building. Work is now in progress and can be viewed at on Danto Builders Web site.
Prior to being selected as the general contractor, Hillman Engineering assisted the Biscayne 21 Condominium Association through the critical process for evaluating the concrete restoration and other required renovations in order to successfully complete its 40-year recertification and ensure its building is safe.
The critical process began with the Biscayne 21 Condominium Association contacting Hillman Engineering, who is a qualified engineer and has experience with 40-year inspections of condominium buildings in similar waterfront locations. Hillman Engineering inspected the mandatory structural and electrical items and consulted with the Biscayne 21 Condominium Association on required renovations to get the building re-certified.
While Hillman Engineering was on the site, a full inspection of other critical systems was undertaken with respect to their condition and when these systems should be replaced. Since the Biscayne 21 building was built in 1955 and major systems were starting to fail, this was especially important. The exposed chiller system, plumbing pipes, elevators all needed to be replaced and brought up to code. The Biscayne 21 building's location on the Biscayne Bay contributed to accelerated erosion of exterior building systems.
"The Biscayne 21 Condominium Association approached this process correctly by being proactive, says Danto Builders' owner and CEO, Craig Danto. "This is especially important for buildings due for a 40-year recertification required in Broward and Miami-Dade Counties. If buyers have a clear and accurate understanding of this process and critical repairs, they will avoid accelerated deterioration of building systems and more costly renovations, and the recertification process will go smoothly. This process will also minimize the liability on the condominium association for future building performance and value."
Hillman Engineering was also hired by the Biscayne 21 Condominium Association to manage the contractor for the major concrete restoration. Danto Builders bid on the concrete restoration along with 14 other bidders. The qualification process narrowed the bidders down to four final bidders based on license and insurance qualifications for high-rise buildings, price, quality and service. Danto Builders was awarded the project.
Working as a cohesive team, Danto Builders has worked with Hillman Engineering and the Biscayne 21 Condominium Association to help further develop and refine the scope of work, product specifications and costs, and qualify subcontractors for the concrete restoration, air conditioning, elevators and impact windows and storm protection.
The concrete restoration on the Biscayne 21 building was the largest budget item and critical to the 40-year recertification. It entails the balconies, garage decking and ramps, and building eye brows. The stucco in these areas was chipping badly, so the 14-story building is getting new stucco applied, and being waterproofed, sealed and painted.
"The Biscayne 21 Condominium Association is following the advice of Hillman Engineering and undertaking the necessary concrete renovations, which will make the building safe for many years, says Danto. "Many building owners do not follow the expert opinions and only cover up the concrete issues with some sealing and painting, which will only increase future safety issues, liability and costs."
In addition to qualifying, bidding out and managing subcontractors for the work that needs to be completed, Danto Builders can also provide a reserve study required by the state of Florida for condominium associations. Danto says, "This study complements the 40-year inspection report, allows for detailed operational budgeting and eliminates the liability on the board from completing it internally. This is part of the turnkey solutions, along with financing options, that Danto Builders has available to condominium associations and building owners for required renovations.
Danto Builders is a leading single-source provider of construction services and management. From required inspections and consultation to managing necessary renovations and financing needs, Danto Builders focuses on providing a one-stop resource for building owners and management. For more information see http://www.dantobuilders.com.