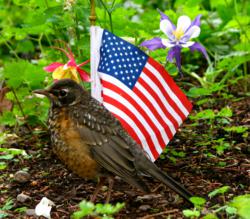 (PRWEB) July 12, 2012
A panel of seven judges awarded Jay Wiskerchen of West Hollywood, California first place for his photo "Telluride Firefighter Pride." His winnings included a cash prize of $500 and the honor of having his photo framed and hung in Telluride's Daniel Tucker Gallery. A framed copy of "Telluride Firefighter Pride" will also be auctioned off at Ah Haa's School for the Arts 20th Annual Art Auction on July 20.
The photo says it all about July 4th this year in Telluride--the American flag hung on the back of a bright red firetruck, Telluride's Main Street and the mountain majesties in the background. "I think the horrendous fires this summer throughout Colorado are subconsciously on everyone's mind. It's a beautiful photograph and a perfect salute to the brave men and women who risk their lives to keep us safe," says Jodi Pounds, Executive Director of Telluride's Ah Haa School for the Arts, one of the sponsors of the photo contest.
Second place ($300) went to Michelle Fortin from Scottsdale, Arizona for her photo "First Parade," showing her one and a half year old son dressed in little blue overalls and a red and white striped shirt, while holding a small American flag as he watches his first parade.
Third prize ($100) was awarded to Kristin Davenport from Lookout Mountain, Tennessee for "Celebrate Good Times," a colorful photo of jubilant parade participants, some holding umbrellas, and a look of joy on each person's face.
This was the third year for Telluride's Hot Shot Photo Contest. To view all submissions visit http://www.telluridehotshotphotocontest.com.