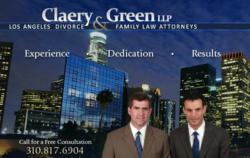 Los Angeles, CA (PRWEB) July 13, 2012
Attorneys aren't usually considered those that "give back" to their community. Rather, they are considered a group of people that strive daily to protect those in need, whether it is due to personal injury or criminal defense needs. Claery & Green, LLP has recently publicized the fact that they not only work consistently to defend its clients, but they also work hard to volunteer and serve within their community. Instead of allowing stories to fall by the wayside and be forgotten, this team works towards the betterment of their home base in Los Angeles, CA. This renowned legal firm brings a helping hand where it is needed, and not always when asked.
Recently, both founding lawyers Lance Claery and James Green have made public their care for those in the community. Rather than worry about how Los Angeles has suffered, the law firm donates consistently to charities ranging from the Southern California School for Children to the St. Margaret Charity or Salvation Army. Claery stated, "It is important to give back to the community if you want to truly be a part of it." This is a legal firm that truly practices what they preach. Claery & Green have made it clear that they not only care for their clients, but are intensely involved in community.
James Green also added that he has always passionately cared about helping people. Green has also helped those within the community enrichment organization, Adventure Guides, and volunteers his own time to serve as a chaperone for the group of attending children. He states, "Anyone can do something to help their community." Here there are no excuses as to whether or not someone should be given the help that they desire. Claery & Green, LLP makes sure that that it is consistently involved. The legal team takes pride both in their clients, and their home.
Claery has also given his time to a very low income area outside the nation's capitol in Washington, D.C. He worked to make sure that the enrichment center he was working on had the funding necessary and also helped to actually build the foundations of the soon-to-be successful enrichment center. Claery has shown extensive interest in bettering the lives of others, whether they are involved in his own life or not. Both he and Green have helped to fund a new future for those in need.
When someone is searching for legal help, they don't want to turn to just anyone for the help that they need. Instead, they want to look to a team of legal professionals that is willing to work towards an, "inspirational and rewarding" end result. There are too many people who are left to their own broken ambitions. The attorneys at this firm want to make sure that those residing in Los Angeles are given the best chance for the future possible, which is why they invest extensively in both time and financial means.
No one wants to live their life fully in complete poverty or deal with problems that are spawned from a lack of financial income. That's why Claery & Green, LLP of Los Angeles, California works to make sure that its community is given the boost that it needs, as well as that of the nation with work in the capitol. Here, they don't believe in allowing the heartache of the past to blossom. They work to nip emotional pain in the bud where they can, right at the beginning.
Claery & Green, LLP has highly successful offices located both in Los Angeles and San Diego. The team of legal professionals works hard within the parameters of California divorce and family law to give those who are struggling the help that they need, precisely when it is necessary. With years of experience and clear-cut and logical way of thinking, this team will bring the intelligent aggressiveness that any case needs to push it through to completion. The legal team is well known throughout Southern California for the results that they garner for their clients. This is a legal firm where people are put first, and money is left in the dust. Although they do have a rate, no other legal team is willing to put the needs of their clients above their own as extensively as those at Claery & Green. This is where family tells family to go, and where painful family law questions are answered. Don't wait any longer for the great help that is necessary, but turn to a law firm that cares. Contact Claery & Green today with their number at 310-817-6904 to schedule your free consultation.