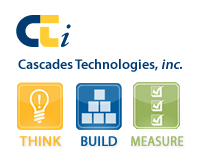 This assessment formally puts CTi head and shoulders above others in our industry. Adoption of the CMMI framework demonstrates CTi's continued efforts to maintain high quality standards and successfully deliver measurable results to all our customers."
Herndon, VA (PRWEB) July 14, 2012
Cascades Technologies, inc. (CTi), a leader in IT Governance, Technical Solutions, and Project Management, today announced their successful appraisal at Capability Maturity Model Integration CMMI-DEV Version 1.3 Maturity Level 3. The CMMI-DEV model is developed by the Software Engineering Institute of Carnegie Mellon University. CMMI is a process framework that assists organizations to establish and improve their software engineering and project management processes for development projects. The appraisal was conducted by the Software Quality Center, an SEI Partner and recognized leader in this field.
This acknowledged standard of quality carries many benefits to CTi's customers. The CMMI-DEV Version 1.3 Maturity Level 3 rating is an independent validation that the company has defined and documented processes in both the software development and project delivery arenas. This rating indicates repeatability, and consistency in both performance and delivery. CTi is now counted among an exclusive small group of 64 companies in the United States that are rated Maturity Level for Version 1.3.
CMMI Level 3 appraisal and rating now enhances CTi's framework of processes that will be applied within the service delivery organization of CTi. These processes substantially enhance the quality of solutions offered. With this appraisal, CTi expects to enhance customer satisfaction as a result of reduced rework, improved quality, and better performance.
"I am truly delighted to see how well our team of experts worked together over a period of seven months to achieve this important milestone. I am proud of their passion, dedication and desire to reach this significant goal. This assessment formally puts CTi head and shoulders above others in our industry. Adoption of the CMMI framework demonstrates CTi's continued efforts to maintain high quality standards and successfully deliver measurable results to all our customers," says Alfredo F. Casta, CEO, CTi.
About Cascades Technologies, inc.
Cascades Technologies, inc., headquartered in Herndon, VA, is a business and IT consulting firm concentrating in IT Governance, Technical Solutions, and Program Management services. Driven by its core tenets of Think – Build – Measure, CTi identifies areas of improvement and delivers results. CTi was founded by Alfredo Casta in 1998 with the mission "to help our clients succeed by fully understanding their mission and challenges, and applying technology, experience, and knowledge to deliver results." CTi's primary customers are agencies within the Federal Government and various health-related entities. CTi holds various contract vehicles including GSA's 8(a) STARS II, FBI's IT Triple S, and a GSA IT-70 Schedule. For more information, please visit our web site at http://www.CascadesTech.com or call us at 703-793-7222.