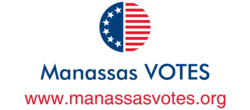 November elections save local taxes and voter's time, while increasing voter turn-out.
Manassas, VA (PRWEB) July 17, 2012
Manassas Votes, a local group supporting efficient government has begun circulating a petition in the City of Manassas that could lead to a change in how the city conducts its local elections. Manassas local elections are currently held in May and funded by local taxes. Manassas Votes seeks to move local elections to November to coincide with the November general elections funded by the state. Manassas Votes hopes to gather the signatures of 2,200 registered voters in the City, 10% of total registered voters, in order to place the question on the November ballot. If adopted, the change would apply to the election date of the mayor, city council members and members of the school board.
Those supporting the change from May to November elections believe that the extra May elections Manassas currently holds are unnecessary. They feel that the current approach wastes local tax money, because the state already pays for November elections, while the City has to pay out of its own tax revenue for its extra May elections. They also point out that holding the extra election makes voters go to the polls twice instead of once, leaving those who make the extra effort to vote in separate elections spending more time than necessary to do so. Manassas Votes also feels that the increased voter turn-out in November elections could contribute to greater government responsiveness, because so few people now show up for the separate local May elections.
According to information provided by Linda Womack, Manassas General Registrar, the separate local May elections held here always have extremely low voter turn-out compared to November elections. Voting records show that only about 10% of the city's registered voters show up for the extra May elections, while voter turn-out for November elections is much higher, ranging from about 35% in non-presidential elections up to 70% or more in presidential elections. Volunteers for Manassas Votes say that they've found that many voters don't even know that the City holds separate local elections in May.
According to the Virginia State Board of Elections, Manassas is one of only two cities statewide, out of 39, that still hold partisan local elections in May. All Virginia counties already hold local elections in November. In a survey of the mayors of cities and towns that made the change conducted by Mayor Rordam of Blacksburg, all responded that the change saved their municipalities money. And, in response to concerns voiced by some that November elections could possibly have negative consequences, none of those mayors thought that national issues ended up being overshadowed by local issues when elections were moved from May to November, per a report from the Blacksburg Elections Task Force.
Steve Hersch, the treasurer of Manassas Votes, said that people came together with the idea of giving Manassas voters the benefit of the same election process that most Virginians already have. His personal interest in the effort stems from his love of Manassas, as well as his business and military background. A fifth generation resident of Manassas, he believes that those who joined together to form Manassas Votes primarily share a desire to make the City better, and that they also want best management practices in local government. Hersch has an MBA from the University of Virginia's Darden Graduate School of Business Administration, served as an executive of a Fortune 50 company for more than 15 years, and served 22 years as an officer in the Navy reserve. The combination of those experiences, he says, lead him to want to help with Manassas Votes. The effort brings together the complimentary desires of citizens to help Manassas succeed as a community, to optimize the efficiency of local government and, ultimately, to strengthen our democracy.
Hersch says that the response received by Manassas Votes while circulating the petition has been overwhelmingly positive, with support coming from across the political spectrum. He believes that's the case because the group is non-partisan and is not affiliated with any political organization. Manassas Votes is truly grass-roots, accepting donations only from Manassas residents and not from any political group or business.
The group will be collecting signatures outside the Old Town Manassas Farmers Market on Thursday and Saturday from 7:30AM to 1:00PM, and other locations throughout the city. Anyone who would like to become involved is invited to email volunteer(at)manassasvotes(dot)org. Steve Hersch, Treasurer of Manassas Votes, can be reached by email at treasurer(at)manassasvotes(dot)org and by telephone at 704 281-6885.