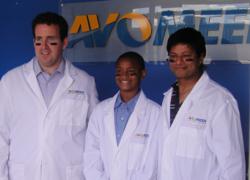 Ann Arbor, MI (PRWEB) July 16, 2012
During a kids' football camp hosted by Tennessee Titan Tim Shaw, each youth professed a future in football, until L.J. Redding interjected, declaring his future as a scientist. This caught the attention of sponsor Brian Farkas, who had recently worked with the scientists at Avomeen Analytical Services to help formulate his successful product, Farkas Eye Black.
Brian contacted Dr. Shri Thanedar, CEO and chief chemist of Avomeen Analytical Services, who opened his laboratory in a private tour for L.J. and his family. Dr. Thanedar introduced Avomeen's advanced instrumentation including gas and liquid chromatographs, mass spectrographs, and electron microscopes. He demonstrated how he and his team use the instrumentation to analyze samples and create formulations of products for innovators.
"I'm happy to hear that chemistry won over football," Dr. Thanedar muses, "Analytical chemistry is a very interesting line of work, as we get to be chemical detectives for our clients; we spend our time investigating issues like why a product batch had an off-color or odor, or discovering the most effective formulation for a product."
L.J. left the laboratory with a wealth of information and inspiration. Dr. Thanedar presented him with a copy of his book, "The Blue Suitcase," advising L.J. that working as an analytical chemist is both challenging and fun. "I think L.J. will make a great formulation expert," says Dr. Thanedar.
About Avomeen:
Avomeen is a full-service chemical testing laboratory, which uses advanced methodology combined with expert chemists to help businesses large and small solve chemical challenges. Avomeen specializes in product formulation, transforming the ideas of clients into effective, eco-friendly small-batch formulations.