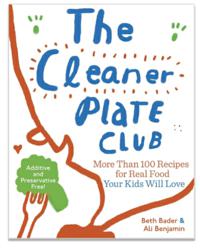 Overland Park, KS (PRWEB) July 14, 2012
Book signing dates and locations:
Overland Park, KS Costco
1-3 p.m., Saturday, July 21, 2012
12221 Blue Valley Parkway
Overland Park
(913) 217-2053
Lenexa, KS, Costco
1-3 pm, Friday, July 27, 2012
9350 Marshall Drive
Lenexa
(913) 227-3700
The Cleaner Plate Club has gotten top reviews in publications such as USA Today, Chicago Tribune, Kansas City Star, and Boston Globe. Recipes are kid-friendly, but not just kid food! This family cookbook earns its place and its share of stains and dog-eared pages kitchen counters everywhere.
A bit about The Cleaner Plate Club:
The Cleaner Plate Club helps parents understand picky eating behaviors; where they originate, and how to deal with them creatively to get kids to eat better - without any sneaking, lying or fights. And without the judging or holier-than-thou advice that parents don't want and don't need.
The Cleaner Plate Club also includes information to help parents understand the overwhelming headlines about processed and fast food, its safety hazards, and the harm it has done to our environment and most of all, to our kids. It is the first book by real moms on the market to provide all things parents need most:

An entire chapter on picky eating and how to deal with it.
How to get real food on the table when you have a real job.
How to cook with what you have on hand, sometimes in 10 minutes or less.
How to cook without a recipe.
Why you should avoid feeding your kids processed foods and what parents need to know about the safety of those foods.
How to source sustainable meats and fresh produce on a budget.
How to get your kids eating real food even if all they have ever eaten is "kid food."
How to understand and deal with picky eaters, both kids and adults.
A hundred good, easy recipes that were created under "real mom" conditions with real kids underfoot, using real food that gets eaten. Including vegetables! Without force.
Laughter and the conversational tone you hear over coffee with your best mom friend.