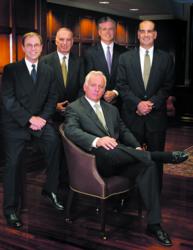 New York, NY (PRWEB) July 14, 2012
Sullivan Papain Block McGrath & Cannavo P.C., a Manhattan-based law firm with over a decade of experience in securing compensation for victims of the World Trade Center disaster, welcomes the recommendation of the federal government to compensate cancers under the 9/11 Victim Compensation Fund.
Last fall, the 9/11 Victim Compensation Fund was reopened under the James Zadroga Act. The Fund is a program to compensate firefighters, police officers, other workers, and residents of lower Manhattan who suffered illnesses or injuries as a result of exposures to World Trade Center toxins.
On June 8th, the federal government determined that dozens of cancers should be eligible for compensation and treatment under the Zadroga Act. These illnesses include lung, blood, digestive (esophageal and colorectal), sinus, thyroid, mouth, kidney and bladder cancers, among others. This determination will not be final for several months, but it is expected that most, if not all, of these cancers will be covered.
Sullivan Papain welcomes this important development for responders, recovery workers and residents.
Sullivan Papain is uniquely qualified to assist those who wish to file claims with the Fund. Sullivan Papain represented hundreds of injured rescue workers, as well as families of the deceased, in the original Victim Compensation Fund (2002-2003) and collected more than $265 million dollars in awards for them.
In addition, Sullivan Papain represented more than 600 firefighters in the $700 million dollar settlement for WTC rescue and recovery workers, including many with respiratory, blood and other cancers. At this time, Sullivan Papain represents over 1,000 claimants seeking compensation from the reopened Fund.
Workers and residents interested in filing a claim with the Fund for an illness or injury resulting from exposure to World Trade Center toxins should call (212) 732 9000 or e-mail us at SPBMC-NY(at)TrialLaw1(dot)Com.
For more information about Sullivan Papain Block McGrath & Cannavo P.C., please visit our website at http://www.TrialLaw1.Com.