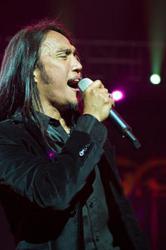 Pineda's story is literally a rags to riches story
Seattle, WA (PRWEB) July 12, 2012
"Asian Camp", a multi cultural and international talent search is scheduled by Sanre Entertainment to begin airing in 2013. In an exclusive interview, CEO Rene Walter and co owner Laura Sanchez explained, "Asian Camp will be by far the largest and most impressive Asian talent search in the entertainment world. It is designed to include competitors from 16 Asian countries who will compete for cash and other prizes. The winner will receive a recording contract and participate in a tour. In its first season, Asian Camp will focus on solo performers, rock bands, and other groups."
Asian Camp is a co-production between Sanre Entertainment and Arnel Pineda. The two have been associated for almost two years and for the last 18 months Sanre and Rene Walter have represented Arnel.
Attorney spokesman Eugene Alkana told reporters, "We offer a unique format for prospective talent. We invite participants to submit their CD together with the necessary entry forms and releases. Finalists will be determined by our panel of international judges and through our interactive website based upon viewer votes. Those talented contestants chosen will participate in the weekly broadcast resulting in a champion that will receive a recording contract and participation in a tour."
The project will be co-produced by Arnel Pineda, lead singer for the world renowned band "Journey". Pineda's story is literally a rags to riches story, recently chronicled in the movie, "Everyman's Journey", a feature length film recently released in the United States. Pineda's life story has legendary proportions in Asia and other parts of the world. His stature as a top international star makes this one of the hottest upcoming projects.