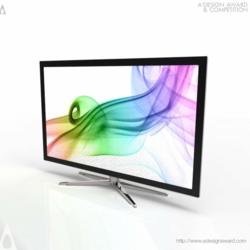 Como, Italy (PRWEB) July 12, 2012
A' Award and Competitions are delighted to share that the design Glasson by Vestel ID Team has been announced as a winner of the noteable Platinum A' Design Award in Digital and Electronic Devices Design Category marked as a winner by the transnational jury members of the A' Design Awards & Competitions within thousands of participants.
More on Glasson
Vestel Id Team, the creator of the winning project Glasson says "It's a frameless design collection with different design solutions in variable sizes with glass element. Elegance created with the transparency of glass continues through with the grace of metal finishes encircling the display in big sizes. Without the accustomed plastic front cover and bezel, design relates through the virtual world and the audience with drastically reduced thickness in 40", 46" and 55" products. The whole metal frame holding the glass front enhances the design quality with precise connection details of different materials." Learn more: http://www.adesignaward.com/design.php?ID=24031
Design Team for Glasson
Glasson was designed by Burak Emre Altınordu and Can Uçkan Yüksel.
The Platinum A' Design Award
The Platinum A' Design Award is a prestigious award given to top 1% percentile designs that has delivered an exemplary level of excellence in design. The designs are judged by a panel of three different jury which is composed of Academic, Professional and Focus Group Members. The designs are evaluated with score normalization to remove any biases and are voted on aspects such as functionality, ergonomics, engineering, presentation, innovation, usability, fun details, technology, and any other specific points that could be considered, each of these points are further weighted for different jury groups.
About A' Design Award and Competitions
A'Design Award and Competitions, aims to highlight the excellent qualifications of best designs, design concepts and design oriented products. A' Design Award and Competitions are organized and awarded annually and internationally in multiple categories to reach a wide, design-oriented audience. Learn more at: http://www.whatisadesignaward.com