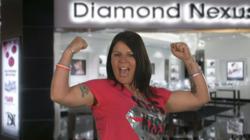 Who doesn't love a belly dancer with an 80's flair?
(PRWEB) July 12, 2012
The Diamond Nexus employees danced to the infectious hit "Sexy and I know It" by LMFAO. All of the dancers "identities" are listed in the video, so that fans can easily vote for their favorite dancer by name.
Competing for the title of "Diamond Nexus Dance Champ 2012" are Blades, JLO, Meg, Casey, Andrew, Chel-bot, Vanessa, Robo-Cher and Chicken. There were no rules other than that the employees should dance like no one was watching.
"Of all of the qualified applicants, we only had nine people who jumped at the chance to dance," commented Jennifer London, Social Media Coordinator. "Of course, when I heard that I would get the opportunity to compete against my boss by dancing, I knew that I definitely had to do this. I hope that everyone votes for me! After all, who doesn't love a belly dancer with an 80's flair?"
When asked about being called out by J-Lo, Kyle Blades, Director of Marketing, stated, "I've studied professional dance moves for years. By interpreting the sweet, sweet moves of the greats like Justin Beiber and Beyonce I have been able to create my own style of dance excellence. It all just came naturally once I dedicated my life to it. As much as I hope to win the whole thing, my only real concern is beating J-Lo, my least favorite employee. Let's be honest though: nothing can stop the Blades!"
Meg Strobel, Social Media Associate was overheard laughing hysterically throughout Kyle's interview. Kyle demoted her to bathroom attendant soon after this article was written. In conjunction with the move, her hysterical laughter quickly turned into subdued whimpers.
Chicken bawked profusely when asked how winning this contest could change his life.
To vote for who you think should be named the Diamond Nexus Dance Champ 2012, please visit: http://www.diamondnexus.com/Dance-Off
Diamond Nexus was founded in 2004 with the purpose of bringing to the public the powerful benefits of the lab-created diamond simulant revolution. They have over 250,000 customers worldwide that have awarded them an "A+" rating with the BBB, and are the ninth largest online jewelry retailer in America according to the 2011 IR500 list. For two years in a row brides from The Knot have selected them as their Best of Jeweler. Diamond Nexus currently has two retail locations: their flagship store at Woodfield Mall in suburban Chicago, Illinois, and a second store at Mayfair Mall in Milwaukee, Wisconsin. In 2009 the company was named the official jeweler and crown maker of the Miss Universe Organization as part of NBC/Universal's "Green is Universal" environmental initiative.