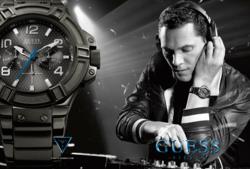 Norwalk, CT (PRWEB) July 17, 2012
Beginning in August, the Limited Edition TIËSTO Watch by GUESS will be available in GUESS Stores around the world and at department and specialty stores. This all new multi-functional timepiece is original and innovative, functionally driven and filled with fashion. Featured in gun metal stainless steel, this bold timepiece is a combination of sport and dress with a magnificent mixture of textures, treatments, and finishes. The uniqueness of the etched top ring, oversized crown, patterned dial detail and electric blue second hand put a modern spin on a must-have trend. The 45mm case is enhanced with masculine, screw details. TIËSTO's personal logo is etched into this Limited Edition Watch case back. This unique piece comes delivered in a special TIËSTO box with exclusive information about GUESS and TIËSTO. Brave, bold, cool, and confident .... All characteristics of both TIËSTO and the GUESS Guy, embodied by this special watch designed exclusively for him.
TIËSTO's performances will span the globe beginning July 23rd in Ibiza and will continue through to 2013 and will include locations such as Paris, Milan, Las Vegas, Sydney, and Dubai, among others.
TIËSTO
TIËSTO has transcended musical genres to create a global "TIËSTO" brand. His achievements include: a Grammy nomination, numerous MTV awards, performing at the opening ceremony of the 2004 Athens Olympic Games to an audience of billions, and even a wax statue at Madame Tussauds. With over 12 million friends on Facebook, 1+ million followers on Twitter, more than 300 million hits on YouTube, a globally syndicated Club Life Radio Show and his Club Life Podcast (#1 music podcast on iTunes globally), not to mention having played to millions live around the world, TIËSTO has truly become a universal phenomenon. TIËSTO has worked with superstars such as Kanye West, Coldplay, Gotye, Katy Perry, Nelly Furtado, Yeah Yeah Yeahs, Goldfrapp and many more. 2012 has seen TIËSTO achieve new heights in his stellar career – launching his very own Club Life Radio Channel on Sirius XM, releasing his AKG by TIËSTO headphone range and iPhone app, along with his hugely successful Club Life – Volume Two Miami album. Headline performances at festivals around the world, residencies at Pacha in Ibiza and the Wynn in Las Vegas, as well as his upcoming Club Life College Invasion Tour in October, all promise to make this year TIËSTO's biggest yet.
ABOUT GUESS
Established in 1981, GUESS began as a denim company and has since successfully grown into a global lifestyle brand. Today, GUESS designs, markets, and distributes full collections of women's, men's and children's apparel as well as accessories. Throughout the years, the GUESS image has been portrayed in unforgettable, innovative campaigns that have made the brand a household name. GUESS is distributed throughout the world in fine department and specialty stores, its retail and factory stores, and on its online store http://www.Guess.com and http://www.GUESS.eu. GUESS has licensees and distributors in South America, Europe, Asia, Africa, Australia, and the Middle East.
ABOUT GUESS WATCHES
Guess Watches launched its collection in 1983 with a line of men's and women's fashion watches. Consistent with the GUESS image, the ever evolving watches appeal to young, fashion-driven consumers around the world. Constant attention to new ideas and cutting-edge design keep the brand relevant to today's trends. Timepieces for women feature styles that range from trendy-casual to sophisticated-chic. The collection for men encompasses the best of masculine design, materials, and technology. GUESS Watches is sold in over 100 countries worldwide in over 15,000 retail locations.
For more information please go to http://www.guesswatches.com.
A dedicated microsite, with the URL of tiesto.guess.com will include product details, performance schedules, ecommerce and a global sweepstakes. Fans can join the conversation on Twitter using the hashtag #guesstiesto.
###