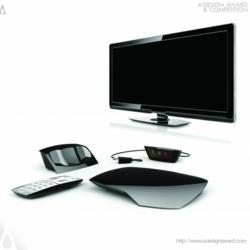 Como, Italy (PRWEB) July 13, 2012
A' Award and Competitions are pleased to announce that the work Smart Media System by Alexander Werbickas became winner of the famed Platinum A' Design Award at Digital and Electronic Devices Design Competition selected as a winner by the respected jurors of the A' Design Awards & Competitions amidst thousands of submissions.
More information on Smart Media System
Alexander Werbickas, the creative mind behind the winning project Smart Media System demonstrates "Wirelessly streaming any media to any device that is connected to the network is unique in today's market. The Hub acts as a central gate and also has the ability to send a split data signal to the TV and the Smart Controller. Mandatory advertisements are sent to the Smart Controller periodically while your media continues on the TV. This allows the user to gain metadata from the advertisements creating a one of a kind interaction. The transforming Smart Controller is also unique in its ability to give the user multiple options for interaction along with the Camera and Charging Dock." Learn more: http://www.adesignaward.com/design.php?ID=23869
Project Members for Smart Media System
Smart Media System was made by Alexander Werbickas, Swoongbeen Lim, Kailen Nordhausen-Willcox, John McCabe, and Oliver Elliott.
The Platinum A' Design Award
The Platinum A' Design Award is a prestigious award given to top 1% percentile designs that has accomplished an exemplary level of sublimity in design. The designs are judged by a panel of three different jury which is composed of Academic, Professional and Focus Group Members. The designs are evaluated with score normalization to remove any biases and are voted on aspects such as functionality, ergonomics, engineering, presentation, innovation, usability, fun details, technology, and any other specific points that could be considered, each of these points are further weighted for different jury groups.
About A' Design Award and Competitions
A'Design Award and Competitions, aims to highlight the excellent qualifications of best designs, design concepts and design oriented products. A' Design Award and Competitions are organized and awarded annually and internationally in multiple categories to reach a wide, design-oriented audience. To learn more visit: http://www.whatisadesignaward.com