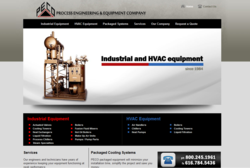 Comstock Park, MI (PRWEB) July 12, 2012
Process Engineering & Equipment Company's (PECO) new website launch, which was made possible by web design and development company, Market Pipeline, brings up-to-date information on their high-quality product portfolio that is easy to find. The use of visuals and descriptive text further make locating the part or service you are looking for a quick and easy task.
Located in Comstock Park, MI, PECO has been acting as the middle man between manufacturers and consumers providing quality fluid handling, filtration and heat transfer products since 1984. Their industrial product portfolio includes liquid filtration, boilers and both pumps and pump parts. Then later, in 1995, PECO added another division, heating, ventilation & air conditioning (HVAC). HVAC equipment available through PECO includes air handlers and heat pumps, for example. After years of hard work and pairing up with brand leaders in the industry, PECO has created a broad portfolio of industrial and HVAC equipment that it offers to both new and return consumers.
The company's new site is packed full of useful information on the equipment it provides. Services offered and packaged systems are also described on the easy-to-navigate site. Part of its visual appeal is the photos included of products. Pairing these with relevant, thorough text makes it simpler for consumers to find just what they are looking for. The navigation bar that heads the page has logical subcategories that make it simple to surf the site and checkout the different items for sale. The design of the site is subtle and is not distracting so as not to take away from the ultimate goal of drawing website traffic, which is sales. This well-designed and polished site provides all the information necessary paired with smooth surfing for return and potential customers.
The website was created by Portage, Michigan-based Market Pipeline. This web design and development company also specializes in web marketing and search engine optimization. To visit PECO's new website and read more into product offerings, go to http://www.pecopage.com/. For more information on Market Pipeline, check out the company's website at http://www.marketpipeline.com/.