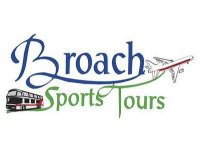 Charlotte, NC (PRWEB) July 13, 2012
Broach Sports Tours will be on the Carolina Panthers' bandwagon this year with exciting travel packages to Panthers road games.
President Tom Broach said that he expects immense interest in this year's team because of a young core of players led by quarterback Cam Newton, last year's NFL Rookie of the Year.
"This is clearly the most excitement there has been for the Panthers going into a season since the Super Bowl year of 2003-04," Broach said. "Cam Newton brings an energy that makes this team so much fun to watch. It's not being too optimistic to think this year's team could make it back in the playoffs.
"On top of that, this is a very attractive road schedule this year with trips to Chicago, Washington and San Diego in addition to the traditional NFC South rivals. So we have some fantastic trips lined up for fans not only in Charlotte, but all over the Carolinas and throughout the country."
Packages to each game include airfare, two nights hotel accommodations, game ticket, ground transportation, pregame tailgate party, Broach Sports Tour hosts and more.
The lone exception is the trip to San Diego in December, which has an extra day added on to make it four days and three nights. That trip, from Dec. 14-17, is available for $1075 per person double occupancy.
Among the other trips are:

Panthers at Washington (Nov. 2-4) for $695 per person double occupancy for air travel and $495 per person double occupancy for motorcoach travel from Charlotte.
Panthers at Chicago (Oct. 27-29) for $749 per person double occupancy.
Panthers at Kansas City (Dec. 1-3) for $744 per person double occupancy.
Panthers at New Orleans (Dec. 29-31) for $795 per person double occupancy.
Panthers at Atlanta (Sept. 29-30) by motorcoach only and one night's hotel accommodations for $269 per person double occupancy.
There will be no scheduled trip for the Panthers' Monday night game at Philadelphia on Nov. 26.
Broach Sports Tours also offers tickets to all Panthers home games, starting as low as $30. The home schedule consists of New Orleans (Sept. 16), the New York Giants (Sept. 20), Seattle (Oct. 7), Dallas (Oct. 21), Denver (Nov. 11), Tampa Bay (Nov. 18), Atlanta (Dec. 9) and Oakland (Dec. 23).
Broach Sports Tours, based in Charlotte, has been an industry leader in sports and travel packages since 1995. It specializes in football travel packages, baseball travel packages, tennis travel packages and golf travel packages.
For more information, contact Melanie Hicks at 800-849-6345 or visit http://www.broachsportstours.com.