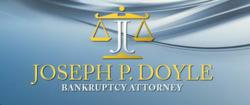 Schaumburg, IL (PRWEB) July 12, 2012
Most lawyers get a bad rap for being dishonest or jokingly considered "slimy." For the many honest and hardworking attorneys throughout the nation, it proves to be exceedingly difficult to move beyond such a painful reputation. A reputation they did nothing to deserve. There are many legal professionals that put their clients first, and work towards the wellbeing of those they serve. One, for example, is bankruptcy attorney Joseph P. Doyle.
Doyle has served in the Chicago are for years with his caring expertise and legal counsel. With an emphasis on bankruptcy, he gives his clients the fresh start that they need, when they need it. He even offers a free bankruptcy evaluation before anyone begins working towards their legal battle completion. Doyle is a legal professional that consistently tries to better his service. With a compassionate mindset and care for others, no one has any questions when it comes to his service.
Recently, Doyle was given the chance to take on a client that was completely bereft. Having been taken advantage of by another attorney, the client that was already struggling through excessive debt didn't have anywhere to turn. Doyle didn't hesitate to offer his services at no charge. With a client that happily complied, he was able to bring her case through the sticky Illinois legal system and help her work towards the new beginning that was both deserved and sorely missed.
It is not easy to take on a case for free. It causes a lot of financial and emotional stress on the attorney, as they work hard to make sure that the case is done completely with all the fees that still apply. The court system doesn't take on cases for free, so it is up to the lawyer in charge of the case to take care of all financial necessity. Doyle was willing to help someone who was down and out so that they could get the kind care that they needed, without any further personal detriment.
In this case, because of his selfless actions, Doyle received a letter from the United States Department of Justice, Region 11. The U.S. Trustee for the region, Patrick S. Layng, wrote him a letter of thanks for the help of a victim of the legal system. Without any worry for self, Doyle made sure that a woman in need was given the help that she needed. For an "attorney," Doyle surely has gone above and beyond what was expected by either his client or the Department of Justice.
Joseph Doyle, Bankruptcy Attorney, has spent his life in the Chicago area. He grew up there, and now serves the city as an adult to make sure that justice is served throughout the whole of the city. He works consistently to make sure that those in need don't have to suffer through heartache any longer, but that they are able to be given the chance at a life after bankruptcy, one that they desire. Without the help of an attorney, creditor harassment and alternatives to bankruptcy may seem bleak and intensively painful. It's with the help of a Chicago bankruptcy attorney that lives can be turned around. Joseph P. Doyle has worked to turn one woman's life around, and wants to help others in the Chicago area begin again. Contact him today with his toll free number, (312) 957-8077 to schedule a free consultation.