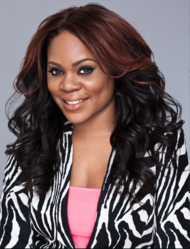 We are excited and inspired by her unique sense of style, fearless risk taking, and edgy appeal mixed with her touch of glam, class, elegance.
New York, NY (PRWEB) July 13, 2012
LASIO® Professional Hair Care officially announces that they have retained celebrity hairstylist, Iyana Winfield, as their new Global Brand Ambassador. This new alliance empowers LASIO to broaden their reach and connection with consumers, while providing Winfield with support to continue to break styling grounds in the fashion and entertainment industries.
Winfield's dynamic styles have connected her to fashion industry legend Beverly Johnson, reality TV stars Tia Mowry, Adrienne Bailon, America's Next Top Models and VH1's Mob Wives cast members, singers Lauryn Hill and Dawn Richardson, and actresses Meagan Good and Malinda Williams. Her edgy looks have graced the runways of Mercedes Benz Fashion Week, Pierre Cardin, and Oscar De Le Renta and her artistic elegance can be found on covers, editorials, music videos, television shows, and most recently the New York City Ballet, Food Network, and Jimmy Kimmel Live!
"I'm very excited to be a part of the LASIO Professional Hair Care line," comments Winfield. "I look forward to creating new innovative styles, spreading the word on these amazing products, being apart of their expansions, and providing all women with the know-how on achieving healthy radiant hair."
Winfield will make her debut as Global Brand Ambassador during Mercedes Benz Fashion Week Swim Miami as Key Hairstylist, with LASIO Professional Hair Care as the hair sponsor, for Kooey Australia, Aquaclara, Aquarella Swimwear, Sauvage, and Cote d'Or Swimwear.
"We're thrilled to welcome Iyana Winfield to the LASIO family," states Morisha Gaul, Marketing Director for LASIO, Inc. "We are excited and inspired by her unique sense of style, fearless risk taking, and edgy appeal mixed with her touch of glam, class, elegance. It's this brilliant combination of skills and qualities that's a perfect fit for the heart of the LASIO brand."
LASIO and Winfield share a common, mutual desire to enrich beautiful hair and encourage beautiful lives, and through their partnership both parties hope to promote innovative styling that integrates achieving and maintaining healthy hair for runway, red carpet, the big screen, performance stages, and everyday life.
About LASIO® Professional Hair Care
Founded in 2000 as the brainchild of Nadine Ramos, LASIO®, Inc. began with the creation of the LASIO® Keratin Treatment and LASIO® Studios salon. LASIO proudly holds the title of "keratin pioneer" in the United States due to Ms. Ramos' recognition of the unique reparative characteristics of this naturally created miracle protein, in an industry previously saturated with Japanese straighteners and harsh relaxers.
Since then, LASIO, Inc. has flourished into a beauty conglomerate; introducing the world to HYPERSILK®, a miraculous line of keratin infused daily hair care products, and Keratin Tropic®, the first formaldehyde free keratin treatment. LASIO continues to grow and excel as a brand committed to providing innovative products and tools for in salon services and at home use.