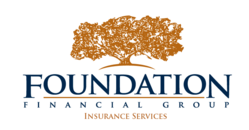 Our main focus since our 2011 launch has been to put customers first and make the process as simple as possible...I believe we have done just that, which is allowing us to grow rapidly and service even more customers across the country
Jacksonville, FL (PRWEB) July 19, 2012
Foundation Financial Group's insurance services division announced that it has exceeded all of 2011's volume by second quarter of 2012. Foundation Insurance Services plans to double current production through the fourth quarter, thereby increasing 2012's volume 100 percent over the same period one year ago.
"Our main focus since our 2011 launch has been to put customers first and make the process as simple as possible," said Foundation Financial Group's COO of Subsidiaries David Gueterman. "I believe we have done just that, which is allowing us to grow rapidly and service even more customers across the country."
In addition to the insurance services division launching in 2011, Foundation Financial Group launched its retirement services division, to accompany their established mortgage division, and opened five Branch Network Office locations and one Regional Sales Center across the nation. During the first half of 2012, Foundation Financial Group launched a third new financial service division, Foundation Tax Services, opened their Wichita Branch Network Office location, and expanded their Marketing Division and their Public Relations Division. Expansion goals for the remainder of 2012 call for doubling Foundation Insurance Services' employee population.
About Foundation Financial Group
Foundation Financial Group, one of the nation's fastest-growing financial services companies, specializes in mortgage lending, property and casualty insurance, life insurance, retirement services, personal taxes and corporate tax services. Foundation Financial Group operates multiple regional centers as well as a branch network of retail storefronts across the Midwest. Foundation Financial Group offers mortgage refinancing and first-time buyer lending through traditional financing, as well as Federal Housing Administration and other government-backed home loan programs. Foundation Financial Group enjoys an A+ rating from the Better Business Bureau, the highest accreditation the BBB gives, and an industry-leading Federal Housing Administration compare ratio.
For additional information, interview and image requests, contact the Foundation Financial Group Public Relations team at 866-659-3200.