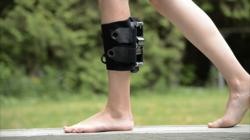 Saringer Life Science Technologies Inc. is a medical device company providing innovative therapeutic solutions for patients
Toronto, Canada (PRWEB) July 17, 2012
The late Frances Jones' battle with diabetic wounds began in 2008 when an ulcer appeared on her left heel and started to grow uncontrollably. It turns out the growth was caused by a blood clot that had increased in severity to a point where Doctors were unable to help her. Due to Frances' medical record of Diabetes, glaucoma and 70% loss of kidney functioning, Doctors had no choice but to amputate.
Over the past few months, Frances' husband Gabriel started a donation fund in order to help raise money for a case study on a medical device, called the Venowave, that could save his wife's second leg. Gabriel discovered the device through a CTV news special. The Venowave is a sequential compression pump that attaches to the calf in order to increase blood circulation. This new revolutionary device could not only treat France's wound but also save her from amputation.
The Venowave device works by being applied to the back of the calf and mimicking the body's venous system by forcing the blood to be pumped from the affected leg. This pumping action reduces pain, swelling heaviness and other symptoms of swollen legs. The Venowave is unique because it is lightweight (weighs less than ½ a pound), discreet, and allows patients to remain completely mobile without any wires or tubes.
As doctors predicted, within months, Frances one good leg began deteriorating as Gabriel continued to aggressively fundraise to save his wife's life. Unfortunately Frances passed away early last week before her husband was able to fulfill his wishes.
Still determined, Gabriel is hoping to continue raising money in his late wife's honour.
Saringer Life Science Technologies, the company behind the Venowave, is a privately-owned company that was founded by engineer/inventor, John Saringer. John works extensively with leading physicians/surgeons in the development of new and improved medical treatment devices in the fields of DVT prevention, vascular solutions, wound healing intervention and pain management. For more information, please visit http://www.venowave.com.
If anyone should wish to donate or learn more about this story or about the Venowave VW5 and how it can help others, please click the following link below:
Frances Story: http://www.indiegogo.com/francesjones
The Venowave official website: venowave.com