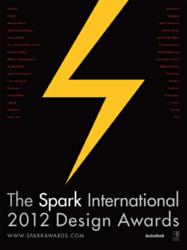 New York, NY (PRWEB) July 17, 2012
Today Spark announced that the first group of designs have been submitted to the five ongoing Spark competitions. This includes Communication design (graphics and web), Spaces design (architecture and interiors), Product design, Concept design (primarily students) and Mobility design (vehicles and transportation).
"The exuberance of this work is further proof that the economic crisis has not dampened the spirits or creativity of the design community," said Spark Founder, Peter Kuchnicki. " We are seeing everything from soaring, ambitious, mega-scale work, to intimate pieces that address small, heart-felt needs."
Spark reports that current entries represent about one third of the total expected. "August 1 marks the half-way point in our campaign," Spark Strategic Director, Clark Kellogg stated. "Then the deadlines in September and early October kick in and cause a flurry of entries. It makes things interesting around here!"
Spark Spots Trends To Watch
"The entries can be early-indicators that show what most concerns designers, and what problems they feel need urgent attention and creative solutions," Kuchnicki said.
Here are four trends he pointed out:
1. Many designs address high-density living
2. Thinking-systems are being applied to everything from living spaces to shipping containers
3. New materials are being applied to old solutions and products, revitalizing their functionality
4. There is great concern for safety, survival, emergencies and adapting to severe conditions
"This is a key pattern to watch carefully," Kuchnicki said. "Designers can be the proverbial canary in a coalmine. They are on high alert. Their antenna are up. And they will help us all adapt to the changing conditions we face. These problem-solvers are vital to society."
Spark Factsheet
–Spark began in 2007, making it one of the newest and hottest of modern design competitions
–Spark welcomes work from all types of designers, from amateur to student to professional
–The competitions have grown an average of more than 20% each year–even in this tough economy
–The Spark Community is open to everyone who loves great design—not just entrants
Call For Entry In Effect
All designers from all disciplines may enter after registration. Event organizers have created a website to facilitate this process, at https://competitions.sparkawards.com/
More information about this organization and these competitions can be found at http://www.sparkawards.com
Bonus Info
About The Spark Design Awards:
The Spark Mission is to promote better living through better design. Commerce is important, but it is a means to an end. We might call the real goal "betterment." Better lives, better health, better water, better air. Great design can help get us there.
Jury Criteria
1. Does the design Spark? Break new ground? Is it a new idea? Creation or refinement? Does it communicate well? Are the graphics clear and compelling? Does it pop!
2. Does it improve the quality of life? Contribute to understanding, efficiency, longevity, progress? Does it sustain our Earth's limited resources?
Then it's a Spark.
2012 Advisory Council
Kit Hinrichs, Principal, Studio Hinrichs, San Francisco
Clark Kellogg, Partner, Collective Invention and Adjunct Professor, UC Berkeley
Alf Nucifora, Chairman, Luxury Marketing Councils of SF, Seattle and Las Vegas
Drew Takahashi, Funjacket Enterprises and Founder, Colossal Pictures. San Francisco
Brent Oppenheimer, Founder & Creative Director, OH&CO, New York
Mark Gobé, President, Emotional Branding. Former CEO, Desgrippes Gobé, New York
Dan Sturges, transLAB Co-Founder and Graduate Transportation Instructor, Art Center
David Meckel, Director of Research and Planning, California College of the Arts, SF
Jessie Canon, Director of Web Strategies, Pluo Consulting
Tucker Viemeister, Director of Special Projects, Ralph Applebaum Associates, NYC
Michael Vanderbyl, Principal, Vanderbyl Design, San Francisco
Scott Stropkay, Partner, Essential Design, Boston
Nate McLaughlin, Director of Technology, Semble.com
Ted Chin, Marketing & Strategy Consultant, Stamford
Richard Wilde, Chairman, Graphic Design and Advertising, School of Visual Arts, NYC
Kristen Richards, Editor, Ocular Magazine and ArchNewsNow, NYC
Mark Charmer, Communications Director, Akvo Water & Sanitation Project, London
Tom Matano, Executive Director Industrial Design, Academy of Art University
Chee Pearlman, Principal, Chee Company, NYC
Manuel Saez, Principal, manuelsaezdesign, NYC
Lisa Sullivan, Principal of Sullivan + Ruther, Berkeley
Jared Hendler, EVP, Global Director, Dialogue Digital & Creative, MWW, NYC
Steve Smith, Operating Advisor, Pegasus Capital, NYC
Sally Dominguez, Founder, Rainwater Hog & Bug Design Ltd.
Tom Dair, President, Smart Design World-wide, San Francisco