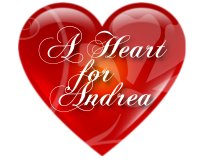 I am inspired by what is happening here...the idea to support Andrea's cause was employee devised, the donation procedure was employee formulated, and the funds raised for FFG to match were all employee given...that makes me proud
Kansas City, MO (PRWEB) July 17, 2012
Foundation Financial Group employees, in offices across the nation, have been raising funds for the 'A Heart for Andrea' cause. The fundraising deadline has arrived and the employee donations have been tallied to be matched dollar for dollar by Foundation Financial Group.
"I am excited to announce that Foundation Financial Group will be contributing a large financial donation to help the 'A Heart for Andrea' cause," said Foundation Financial Group's CEO, Mark Boyer. "I am inspired by what is happening here at Foundation Financial Group: the idea to support Andrea's cause was employee devised, the donation procedure was employee formulated, and the funds raised for Foundation Financial Group to match were all employee given. This was done by employees across the nation, not just in our local Kansas City branch office. We truly have the most compassionate and selfless people here at Foundation Financial Group, and that makes me proud."
Andrea, a Kansas City, MO native and a single mother of two, was born with a congenital heart defect known as Corrected Transposition of the Great Vessels along with Pulmonary Stenosis. When she was 2 years old, she had open heart surgery in an effort to correct the problem. However, the surgery was unsuccessful and ended with the need of an artificial pacemaker to be inserted. The doctors explained to Andrea that someday her heart would give out and she would need a transplant. Unfortunately that day arrived on November 23, 2011 when she suffered a heart attack at the young age of 35 years old, and was diagnosed with Congestive Heart Failure.
The doctors have tried to get her condition under control, but Andrea's heart has only shown signs of weakening, which have led to her being placed on the heart transplant list at St. Luke's Mid America Heart Institute in Kansas City, MO. The wait on this list is usually at least one year, due to her specific blood type, but an exact timeframe of eligible for surgery is unknown.
The disease has created a significant health issue, and Andrea is unable to return to work as a Sheriff's Deputy, leaving her no source of income. The loss of income coupled with the fact that this type of surgery is very expensive, has created a large financial void for Andrea that she desperately needs assistance with.
Foundation Financial Group's donation will help cover living expenses while Andrea is waiting for the heart transplant surgery; providing food and shelter for her children during this challenging situation.
For more information on how you can help this great cause, please visit http://www.heartforandrea.webs.com.
About Foundation Financial Group
Foundation Financial Group, one of the nation's fastest-growing financial services companies, specializes in mortgage lending, property and casualty insurance, life insurance, retirement services, personal taxes and corporate tax services. Foundation Financial Group operates multiple regional centers as well as a branch network of retail storefronts across the Midwest. Foundation Financial Group offers mortgage refinancing and first-time buyer lending through traditional financing, as well as Federal Housing Administration and other government-backed home loan programs. Foundation Financial Group enjoys an A+ rating from the Better Business Bureau, the highest accreditation the BBB gives, and an industry-leading Federal Housing Administration compare ratio.
For additional information, interview and image requests, contact the Foundation Financial Group Public Relations team at 866-659-3200.