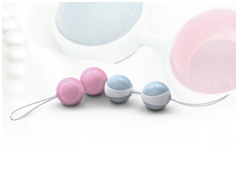 Stockholm / San Jose (PRWEB) July 12, 2012
Swedish designer brand LELO is launching their new LUNA Beads Mini size at the ANME Show after a sales increase of 400% for their LUNA Beads pelvic floor exercise system. Over the past two months, LUNA Beads have risen to the Top 5 bestsellers in the Sexual Wellness section on Amazon. The company reports sales have increased across the board for their premium personal massagers and bedroom accessories, attributing this new success to 'Fifty Shades of Grey', the global bestselling erotic novel which contains scenes that put beads such as LELO's ben wa balls in the spotlight.
As to the novel's contribution to the recent increase in the popularity of LUNA Beads, US Director of Sales and Marketing Donna Faro said: "At LELO we find it very heartening to learn that so many more women worldwide are now realizing that health is a key part of pleasure – and we're very happy that E.L. James and the Fifty Shades book series is joining us in turning women on to the idea of a healthier sensuality. With LUNA Beads we're opening these advantages to an even broader age group."
LUNA Beads Mini have been launched for those women under 30 who would be more suited to a smaller version of LELO's bestselling Kegel exercise system, originally launched in 2006. LELO's version of the 'Ben Wa' or 'Geisha' balls, used by the novel's heroine, are high-quality beads worn inside the vagina to help strengthen the pelvic floor muscles. They have a variety of purposes, supporting women preparing for and recovering from childbirth, maintaining bladder control, and conditioning the vaginal muscles for more intense orgasms. This surge in sales is such that the company predicts they will have sold more than half a million products before the end of the year.
LELO's unique take on these exercise aides contains a weighted inner ball that vibrates as the wearer moves to prompt muscles to respond, minimizing the effort conventionally involved in a pelvic floor workout. Made with body-safe materials for hygiene and peace of mind, each set of LUNA Beads comes with different weights to allow users to create their own pelvic floor fitness routine.
The author of the trilogy, E.L. James, describes her books as "romantic fantasy" stories, which offer women a "holiday from their husbands." According to Bloomberg News, the three books in the series have sold a staggering 15 million copies in only three months and "top every bestseller list in the universe." The phenomenon does not seem to be slowing down anytime soon either, as a film adaptation is already in the works, with Hollywood heartthrobs such as Alexander Skarsgård and Ian Somerhalder publicly vying to play the lead role of Christian Grey.
LUNA Beads Mini will be available to purchase at retailers worldwide and via http://www.lelo.com from July 18 onwards.
NOTE TO EDITORS: For more information on LELO's latest products, visit http://www.lelo.com or send an email to pr(at)lelo(dot)com
# # #
LELO is the world's leading designer brand for intimate lifestyle products. On launching in 2003, LELO transformed the look, feel and function of how personal massagers were perceived, and now applies the same commitment to quality and innovation through luxurious bedroom accessories, massage oils, soy massage candles and a premium line of silk intimate apparel. LELOi AB is the Swedish company behind LELO, and also holds the Intimina and PicoBong brands under the LELO group, where offices extend from Stockholm to San Jose, from Sydney to Shanghai.