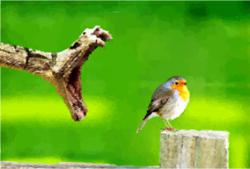 Joe Doll, CEO of Accelerated I/O and inventor of the technology, says the technology will open the door for several new applications to be developed by app developers and that "This is one of those things that could get out of hand."
Tulsa, OK (PRWEB) July 13, 2012
As difficult as animation is today, we already see several animations or a video on a page. What would the web look like if animation suddenly became so easy that a "7 year old can animate a photo in 4 minutes or less"? Would it be fun or sheer insanity? How much is too much? We are about to find out, because Accelerated I/O has a cloud app that not only puts animation within the reach of everyone, but makes it fun and easy. These are not some simple 2 second jitter animation created from GIF or something created with Flash, but SVG animations that pack a punch. For example, their web site has a guy flying on a magic carpet and another of a snake trying to get a bird.
The animations are from photos. The PnZ Cloud allows a user to take bits and pieces of several photos and combine them into a single animated scene to do whatever they want with some SVG limitations. At the present, animations can zoom and move, but the SVG standard allows many other options which Accelerated I/O is incorporating into their app. Joe Doll, CEO of Accelerated I/O said "This one of those things that could get out of hand."
About Accelerated I/O
Accelerated I/O, Inc. (AIO) markets Pac-n-Zoom (PnZ) Technology. AIO makes the technology available to end-users at Pac-n-Zoom.com and to application developers to incorporate in their own websites and mobile applications. AIO has open sourced the web animation and encourages application developers to build upon the code and sell their own apps based upon their application tool.
For more information:
Website: http://www.Pac-n-Zoom.com
For Interested Developers: Developer(at)Pac-n-Zoom(dot)com
General Inquiries: Customer.Support(at)Pac-n-Zoom(dot)com
Telephone: +1 800-691-8580 Ext. 1
Contact:
Jerry Ferguson
COO
Accelerated I/O, Inc.
+1 800.691.8580 Ext. 4