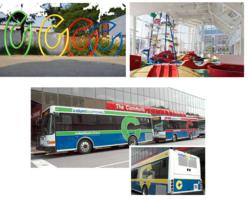 The most successful economic development organizations ensure that all touch points for corporate prospects, decision makers and influencers are sending the same strong singular messages regarding capital investment in that community
(PRWEB) July 14, 2012
North Star Destination Strategies client Columbus, Indiana has been awarded a coveted number one ranking by the national economic development publication, Area Development, in its 2012 "Leading Locations" report. Columbus is known for its advanced manufacturing and has averaged one corporate expansion announcement per month since 2010. This latest superlative joins a long list of accolades, which have followed the city's growth across all public sectors – tourism, resident growth and satisfaction and economic development. The uniting platform for this across-the-board renaissance has been the Columbus community-wide brand, which is based on the city's heritage of internationally recognized architecture that serves as an allegory for its approach to applying unexpected standards of excellence to literally everything it does.
The publication ranked all 365 Metropolitan Statistical Areas (MSAs) across 23 economic and work force indicators supplied by the Bureau of Labor Statistics, Bureau of Economic Analysis, and the U.S. Census American Community Survey. Listen to what Columbus Economic Development Board Executive Director Jason Hester says the ranking has multiple benefits for the city.
Spearheaded by the line, "unexpected. unforgettable", the look and message of the brand is integrated throughout the Columbus infrastructure, playgrounds, tourism packages, economic development recruiting, building standards, sustainability initiatives, events, business practices, and more.
According to Don McEachern, CEO of North Star, Columbus' latest accolade is support for the North Star philosophy that a strong economic brand cannot be developed in a vacuum. "The most successful economic development organizations ensure that all touch points for corporate prospects, decision makers and influencers are sending the same strong singular messages regarding capital investment in that community," McEachern explains. "This is critical since the current data indicates that more than 70% of capital investment deals don't involve an initial contact with any development organization until a short list of potential location options for investment has been created. EDOs need to have a consistent established identity resonating in channels they can't control."
Rather than developing separate identities for tourism, economic development and community outreach efforts; North Star advocates identifying a unifying strategic platform from which targeted messages and creativity can be developed based on the needs of different audiences. "The brand identity doesn't have to be creatively identical for different sectors, although they should be unified" he stressed. "Nor do the specific messages need to be the exactly same. But if the underlying context of what makes your community great is different depending upon which organization is talking then all your resources are working at cross purposes."
View Columbus' family of logos.
Columbus' economic development recognition came just as the board of directors and staff of the Columbus Area Visitors Center hosted its annual meeting, which celebrated the fifth anniversary of the community brand. The meeting included a keynote address by North Star's McEachern about the success of the Columbus brand.
"The brand gained its early traction in tourism (Go here to see the reaction and results of the Columbus story) but the tenets of unexpected, unforgettable excellence clearly connect to the Columbus approach to business," McEachern concludes.
Community branding is the process of uncovering and using a community's greatest strength to create a consistent memorable identity that will help propel the city to its preferred future. North Star's integrated process combines education, research, strategy, creative development and a strategic action plan. All North Star professionals – researchers, analysts, account planners, strategists, writers, creative directors and designers—are involved in every step of the process to ensure ultimate outcomes and diversity in thinking.
North Star Destination Strategies is a full-service marketing agency. Having worked with more than 150 communities in 37 states nationwide, North Star is considered an industry leader in the field of community and destination research and branding.