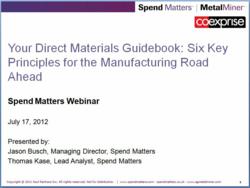 "The best preparation is to look for potential uncertainty and have agile systems and processes in place to adapt to a direct materials environment where the only certainty is uncertainty."

- Jason Busch and Thomas Kase, Spend Matters
Wexford, PA (PRWEB) July 16, 2012
Spend Matters is hosting a live webinar on Tuesday, July 17, at 12:00 EST. Co-eXprise, the leading provider of cloud-based sourcing solutions for the discrete manufacturing industry, is sponsoring the webinar, which will be broadcast from their headquarters in Wexford, PA.
The webinar, "A Direct Materials Guidebook: Six Key Principles for the Manufacturing Road Ahead," provides direction to manufacturers on the key elements they must consider in the changing landscape of direct materials sourcing. The webinar will include discussion points on the demands sourcing and purchasing professionals face and the challenges of buying quality materials, anticipating delivery capacity, and managing risk. The presenters, Jason Busch and Thomas Kase, will offer their forecasts on the changing landscape of procurement.
Click here to register for the webinar and download the guidebook by visiting the Spend Matters Perspectives page in the Co-eXprise Resource Center.
About Co-eXprise, Inc.
Co-eXprise is the leading provider of sourcing solutions for the discrete manufacturing industry. Co-eXprise CX4 is a Software-as-a-Service (SaaS) solution designed for managing direct material sourcing and cost improvement initiatives across an extended enterprise of supply partners. Learn more at http://www.co-exprise.com