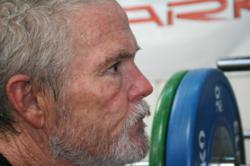 I want first place
Irvine, California (PRWEB) July 13, 2012
The 2012 Crossfit Games Senior Masters Division, comprised of athletes of over sixty years of age, is no ". . . . walk in the park," states Brad Davidson, Vice President of Research and Development at Stark. Being pushed to the limit, Crossfit athletes are considered to be some of the most physically fit individuals in the world. Says Davidson, "At over sixty, to simply survive the daily stress of training in a Crossfit Box is remarkable."
For Gary Collins, a "salty," sturdy-looking, white-bearded athlete, leans into his conversation as if to emphasize his determination. Very self-assured, calm, but determined, his medical history tells a story about his attitude. It's also what drew him to Crossfit.
"I liked the attitude of the people doing Crossfit: they're pro military, pro law enforcement, and pro "can-do" attitude," says Collins. And, he fits right in. His doctor told him he couldn't do "this kind of stuff." He has four herniated discs in his lower back and a cracked vertebrae fusing naturally. Initially joining the local Crossfit in Simi Valley, he was simply trying to keep flexibility as long as possible until better technology came along for surgery.
"I started working out three years ago at 228 pounds, a blob of goo, out of shape, mentally thinking I was in better shape," says Collins with a grin. Confidence seems to come easily to him. "My oldest son was doing Crossfit at the time. He told me not to accept what the medical community said. When I first started, I was discouraged. I could do some pushups, one pull-up, most of the bar work was with just a PVC pipe."
After being humiliated during his first "WOD," (the Crossfit acronym for "workout of the day") the competitions just sort of naturally happened for Collins. Before he knew it, he actually had a shot. "Our 'box' just cheered me on," relays Collins. "I want first place."
While training with Chris Espinosa of Crossfit Simi, Collins has made tremendous progress. According to Collins, Marvin Selga, a massage therapist has been a key ally as well. States Collins, "Chris destroys me, Marvin puts me back together again."
How does Stark fit in? The purpose was to add to the structure already provided by Espinosa and Marvin. Collins needed a clear diet and a sophisticated supplement protocol, one used by high-level athletes for the purpose of putting on muscle mass and losing body fat. Davidson strongly believes a lean athlete is more efficient and explosive. "Gary will perform better," says Davidson.
The Games begin for the over-sixty competitors on July 13th. Collins has a strategy, feels good about his preparation, and is relaxed and confident. Weighing in at a lean and strong one hundred ninety five pounds, his goal of first place may be in his future.