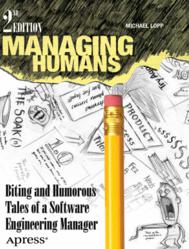 "The second edition of MANAGING HUMANS is 292 pages with 46 chapters. The 6 pages per chapter average is ideal for your ATTENTION DEFICIENT LIFESTYLE. People DIG IT."
-- Michael Lopp, Author of Managing Humans
New York, NY (PRWEB) July 13, 2012
Managers are a universal chatter, and whether its the director of engineering or an individual contributor, a core job for every employee is to figure their manager out. What do they want? How to deal with a crisis? How to communicate? As employees learn each of these lessons, they acquire different arrows and what better way to solve a potential problem than to tape it to a target, step back, pull out the right arrow, and fire!
The humor and insights in the 2nd Edition of Managing Humans are drawn from Michael Lopp's management experiences at Apple, Netscape, Symantec, and Borland, among others. This book is full of stories based on companies in the Silicon Valley where people have been known to yell at each other and occasionally throw chairs. It is a place full of dysfunctional bright people who are in an incredible hurry to find the next big thing so they can strike it rich and then do it all over again. Among these people are managers, a strange breed of people who, through a mystical organizational ritual, have been given power over the future and bank accounts of many others.
This second editions expands on the management essentials. It will explain why we hate meetings, but must have them, it carefully documents the right way to have a 1-on-1, and it documents the perils of not listening to your team.
Whether you're an aspiring manager, a current manager, or just wondering what the heck a manager does all day, there is a story in this book that will speak to you—and help you survive and prosper amongst the general craziness.

ISBN: 978-1-4302-4314-4
292 pages
Publication Date: July 12, 2012
Available eBook Formats : EPUB, MOBI, PDF
Print Book Price: $25.70
eBook Price: $17.99
About the Author
Michael Lopp is a veteran engineering manager who has never managed to escape the Silicon Valley. In over 20 years of software development, Michael has worked at a variety of innovative companies, including Apple, Netscape, Symantec, Borland International, and a startup that slowly faded into nothingness. In addition to his day job, Michael writes a popular technology and management weblog under the nom de plume "Rands," where he discusses his management ideas, worries about staying relevant, and wishes he had time to see more of the world. His weblog can be found at RandsinRepose.com.
About Apress Media
Apress Media LLC is a technical and business publisher devoted to meeting the needs of IT professionals, software developers, programmers, and business leaders with more than 1,000 books in print and electronic formats. Apress provides high-quality, no-fluff content that helps serious technology professionals build a comprehensive pathway to career success. Since 2007, Apress has been part of Springer Science+Business Media, one of the world's leading scientific, technical, and medical publishing houses, enabling global distribution of Apress publications.
For more information about the innovative approach Apress takes to publishing, please visit http://www.apress.com.