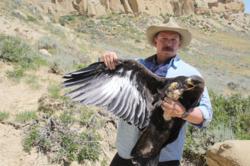 Citizen-science volunteers (the Golden Eagle Posse) contributed 548 hours and more than 3,400 travel miles to the project in 2011.
Cody, WY (PRWEB) July 26, 2012
In 2009, the Draper Museum of Natural History at the Buffalo Bill Historical Center in Cody, Wyoming, began a research project in partnership with the U.S. Bureau of Land Management. The five-year study's purpose is to determine golden eagle nest occurrence and distribution, and annual nesting occupancy, activity, success, and productivity in Wyoming's Bighorn Basin. The nearly 1,000 square mile study area lies at the eastern edge of the Greater Yellowstone Ecosystem in northwest Wyoming near Cody.
According to Curator Dr. Charles R. Preston, "The overarching goals of the project are first, to establish a strong foundation to evaluate future golden eagle status in relation to environmental change. Second, we want to provide information and insights to help guide golden eagle management decisions across western North America." To that end, objectives include counting and monitoring golden eagle nesting efforts and results in a complex study area that encompasses intense recreation, energy development and agriculture. In addition, the project seeks to determine food habits in order to identify the impact of human activities on eagle diets.
The project also includes a myriad of educational programs to engage and inform the public about conservation of raptors (i.e. birds of prey) and other wildlife. The field-based educational experiences introduce people to golden eagle ecology and the importance of sagebrush-steppe landscapes. "Our study area is one of the last large, virtually intact native sagebrush-steppe tracts of land remaining in the Intermountain West," says Preston. "Except for a narrow gap to the northwest, the Bighorn Basin is surrounded by high elevation ecosystems of the Absaroka, Beartooth, and Bighorn mountain ranges. Flat and rolling terrain is broken sharply by sandstone outcroppings, cliffs, and ravines—perfect nesting sites for golden eagles."
Aerial surveys are conducted from mid-March to early April to locate golden eagle nest areas and determine whether the sites are occupied. The same sites are surveyed by air again in late June and early July to help determine success and productivity of each nest. Between aerial surveys, ground surveys are conducted as needed to verify nest status. Additionally, six to eight nests per season are selected for more intense study; each of these sites are monitored at least six hours per week until offspring leave the nest. Citizen-science volunteers (the Golden Eagle Posse) contributed 548 hours and more than 3,400 travel miles to the project in 2011.
The project also includes a "banding" component in which Preston catches eagles and marks them for future identification with a United States Geological Survey (USGS). "The ongoing banding/marking operations will continue to help identify eagle individuals and determine site fidelity, mortality, and individual movements," explains Preston, "and we continue to explore a partnership with the University of Wyoming Berry Center for Conservation Biodiversity to eventually analyze DNA from shed eagle feathers to better understand our study population."
In 2011, the Draper Museum also began a partnership with Yellowstone National Park to collaborate on a new study focused on golden eagles nesting in the Park. Pending additional funding, this work will continue to provide a broader context to interpreting golden eagle nesting ecology in the Bighorn Basin. Data collected within Yellowstone could potentially serve as a control group, since there is less disruption by humans in the more carefully regulated park.
The Buffalo Bill Historical Center Draper Museum of Natural History's golden eagle project not only expands general knowledge about these raptors, but also about the unforeseen effects of humans on land, ecosystems, and native species. This research will serve as a baseline with which to measure golden eagle populations in the future as well as a tool to use when considering policies involving land use and wildlife management.
For more information about the Center's golden eagle project, visit Preston's blog.
_______________________________________________________________________________
Committed to connecting people with the Spirit of the American West, the Buffalo Bill Historical Center, located at 720 Sheridan Avenue in Cody, Wyoming, weaves the varied threads of the western experience—history and myth, art and Native culture, firearms technology and Yellowstone natural history—into the rich panorama that is the American West. The Center, an Affiliate of the Smithsonian Institution, is operating its summer schedule, 8 a.m. – 6 p.m. daily. For general information, visit their Web site, or call 307.587.4771.