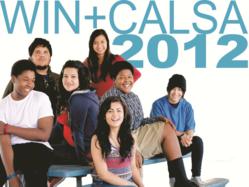 We have found that teacher professional development is the most important facet of developing curriculum that prepares students to be college and career ready.
-Gerardo Chavez, DIrector (SUHSD CTE)
Kingston, TN (PRWEB) July 13, 2012
This week, WIN Learning announced its 2nd $50,000 scholarship to be awarded to Sweetwater Union High School District in California. Awarded annually by WIN, the WIN/CALSA grants support the California Association of Latino Superintendents and Administrators (CALSA) members in their efforts to close the Latino achievement gap. Sweetwater's scholarship goes toward the licensing of WIN Learning Solutions to help students build career pathways, either directly to the workforce or following post-secondary education.
WIN Learning specializes in providing workforce development solutions for front-end economic and education analysis and training. These solutions allow policymakers, community leaders, educators, and business leaders to quickly assess labor supply and demand and align curricular development, occupational skills training, career readiness, and career pathways with the knowledge and skill requirements for targeted industries and occupations.
WIN Learning Solutions also include WIN Soft Skills - developed in response to business leaders' request for students' preparation in essential qualities for success such as attitude, teamwork, communication, problem solving, and critical thinking – and WIN Career Readiness Courseware, which provides multi-level, skill-based training to improve foundational academic skills in the context of real jobs. Schools nationwide use WIN's Career Readiness Courseware to prepare students for 26 national career and work readiness certifications.
Joseph Goins, Executive Vice President of WIN, announced the selection of Sweetwater by saying, "We received many outstanding applications for this grant. Sweetwater stood out in its commitment to apply best-practice solutions for delivering skills-based training and ensuring success for all students. We believe WIN and Sweetwater share a vision to integrate learning technologies for enhanced educational opportunities. I am excited about the vision that Sweetwater has and I am looking forward to seeing students' lives changed as a result of this partnership."
According to Gerardo Chavez, Director, Career Technical Education, WIN's grant will strengthen career and technical education across the district. As Gerardo says, "Most students attend a regular comprehensive middle or high school and are academically successful within this setting. There are, however, several students who do not find conventional classroom instruction relevant to their personal learning styles. It is this group of students whose needs we are attempting to address via Career Technical Education (CTE) opportunities." The Sweetwater Union High School District, in fact and indeed, has dedicated a wealth of energy to the embedding of CTE Programs of Study within every high school, beginning at the middle schools. The district has an insatiable desire to have all students be college and career ready upon graduation. In Sweetwater, High School Redesign is an educational approach whereby CTE teachers and core academic teachers, as a matter of course, collaborate incessantly in order to fuse CTE curriculum and core academic curriculum together. Through their consistent curricular communication, CTE language and project-based activities directly support core academic knowledge, content and concepts. Thus, math instruction is reinforced in construction classes; science relevancy is found in medical classes and language arts are supported by CTE theater classes.
Gerardo says, "We have found that teacher professional development is the most important facet of developing curriculum that prepares students to be college and career ready. It is for this purpose that Sweetwater Union High School District has chosen to apply for the $50,000 WIN Learning scholarship. In order to establish curricular consistency, it is imperative that all participating teachers receive appropriate and relevant training. Through proper training, teachers will be able to access data which will drive the selection of CTE pathways and prepare students for the future workforce market."
This WIN/CALSA Partnership grant is part of an ongoing collaboration between CALSA, a professional organization representing Latino educational leaders across California, and WIN. Now in its 16th year, WIN has been an innovator and worldwide leader in matching education to workforce requirements, and strengthening partnerships between schools and communities to place students firmly and successfully in the 21st century workforce. WIN's applied academic skills training and career pathways mapping have engaged more than 10 million WIN learners worldwide, educating and credentialing students for college and career readiness.