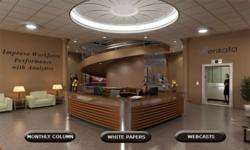 "CRMXchange has helped us create a productive communications channel to deliver our message to the market." Trish Voskovitch, Senior Manager, Marketing Programs, Enkata
Montvale, NJ (PRWEB) July 16, 2012
When visitors arrive at Enkata's virtual Workforce Analytics community, located on the home page of the CRMXchange website, they're ushered into a detailed, welcoming lobby setting. They can then log in to three information modules: Monthly Columns, Webcasts and White Papers, where they'll find an impressive array of expert analysis, respected third-party research reports and actionable strategic direction.
For the past several months, a continuous stream of senior-level contact center and CRM professionals have been enjoying the benefits of Enkata's online hospitality while their appreciative hosts have gained important customer insights and developed valuable contacts. "CRMXchange has helped us create a productive communications channel to deliver our message to the market," said Trish Voskovitch Senior Manager, Marketing Programs for Enkata. "It provides us with an active, information-driven audience and the graphic environment encourages user engagement."
Sheri Greenhaus, Managing Partner of Cyber M@rketing Services, touched on several factors contributing to the community's positive results. "CRMXchange records over 138,000 site visits per month," she stated. "Decision influencers rely on us to provide updated information on the latest progress in the CRM and contact center industry and are confident that our partner companies offer value-added intelligence. Enkata's community provides a powerful resource on how to use analytics to optimize workforce performance, improve first contact response and enhance the customer experience."
Among the numerous topical presentations available on Enkata's Workforce Analytics community are:

Fundamental Principles of Operational-Level First Call Resolution
Seamlessly Transitioning to Contact Center Analytics Solutions
Cross-Channel Analytics
What Are Contact Center Analytics Really All About?
Making a Rational Contact Center Analytics Choice
About Enkata
Enkata is a leader and innovator in cloud-based workforce analytics and workforce optimization. Customers achieve impressive gains in functional areas ranging from the contact center to back office operations to sales while reducing customer effort and transaction processing costs. Enkata's solutions capture big data from a wide variety of operational and customer facing sources to improve operational process and employee performance. Fortune 100 companies trust Enkata to examine millions of customer and employee interactions each day ensuring that each is delivering value to the organization and to the customer.. For more information htttp://http://www.enkata.com
About CRMXchange
CRMXchange is the premiere destination for information on relationship management solutions, including: customer interaction best practices, CRM programs, training, and other valuable industry resources. For more information, visit http://www.CRMXchange.com or contact Sheri Greenhaus at (201) 505-1743.