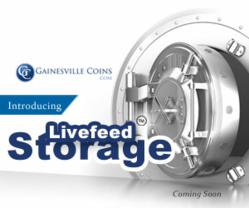 Have a live feed of your fully segregated gold and silver investment at Gainesville Coins Storage LiveFeed.
Lutz, FL (PRWEB) July 13, 2012
Gainesville Coins Storage (GCS) is raising the bar in the precious metals storage industry by offering storage customers GCS LiveFeed, a real-time online video feed of customers' fully segregated storage unit. GCS customers' who opt for this service will be able to view their storage unit real-time 24 hours a day, 7 days a week. Gainesville Coins believes that this option will provide storage customers an added level of service that their precious metal assets are stored safely and securely.
The demise of commodities broker Peregrine Financial Group (PFG Best) this week, and MF Global in October of 2011 has badly shaken investor confidence in U.S. regulators and the sanctity of customer assets held by a fiduciary. In both cases, a cardinal rule for broker/dealers to hold segregated customer accounts as inviolate was breached. In both cases, the Security Investor Protection Corp did not insure the customer accounts affected.
Gainesville Coins Storage is already recognized as one of the premier physical gold and silver storage options. Among the benefits afforded account holders include liquidity, same day shipments, same day pick-up with 1 hours notice, and fees that are among the lowest in the industry.
Adding GCS LiveFeed further separates Gainesville Coins Storage from competitors. By using GCS LiveFeed, account holders will be notified when precious metals are to be added or removed from their unit, and be able to view it on their computer or smartphone. GCS LiveFeed account holders will be able to view their fully segregated storage unit at any time on their computer or smartphone. Any unscheduled entry into a fully segregated storage unit will result in an alarm alerting the GCS LiveFeed account holder.
Other security features of Gainesville Coins Storage include full insurance of stored precious metals for their replacement value by a AA- rated insurance company that specializes in precious metals. GCS is also subject to 2 unannounced physical site audits every year. GCS is a state of the art vault facility with 24-hour security. For more information, please visit http://www.gainesvillecoins.com/secure-storage.aspx