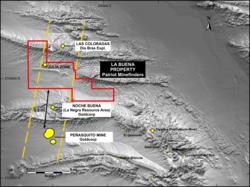 Vancouver, BC (PRWEB) July 12, 2012
Vancouver, BC Financial Press – One newly-listed, small company has set its sights on the next big Mexico gold and silver mining and exploration success story.
Canada-based Patriot Minefinders has successfully partnered with San Marco Resources to explore its flagship gold-silver exploration project, the La Buena property, in Mexico.
This property is in a prime location for gold and silver exploration and has numerous targets, many of which are highly prospective for the discovery of gold and silver.
The La Buena property is located 5.6 miles north of Goldcorp's Penasquito Mine.
The Penasquito mine is expected to be the largest open pit mine in Mexico. It's operated by Goldcorp, one of the world's largest and most profitable gold mining companies.
The mine is also one of the largest gold mines in the world to be successfully put into full-scale production in the last few years. It contains an estimated 16.54 million ounces of gold and an estimated 960 million ounces of silver based on Proven and Probable reserve categories. These contained gold and silver have a current market value of approximately $52 billion. And that value doesn't include the sizeable zinc and lead reserves of which there billions of pounds of each contained in the deposit.
The deposit is so rich with gold, silver, zinc, and lead that Goldcorp expects the Penasquito Mine to produce an average of "500,000 ounces of gold, 28 million ounces of silver, 450 million pounds of zinc and 200 million pounds of lead" each year over the mine's estimated 22 year mine life.
The attached map shows below the property is located just a few miles away from the Penasquito Mine (see map).
The map further details two other significant gold and silver discoveries right in the same general area. Goldcorp's Noche Buena project and the Dia Bras Exploration's Las Coloradas project are right in the same region. In short, the area in and around the Penasquito mining camp is wrought with potential throughout and has the potential to become one of the most successful gold mining districts in the world.
Patriot Minefinders' property is right in the middle the area with a sizeable property with multiple high-potential gold and silver exploration targets.
The company has not one, but three total mineral exploration concessions. They cover a total of 8500 hectares of gold exploration territory in this region with extensive proven gold reserves.
That's not all the company has company has going for it. Its location is just the start of the unfolding Patriot Minefinders story. The geological reconnaissance work it has already completed on the project demonstrates the potential for another big discovery in the region is more than possible.
The company's La Buena project is made up a large swath of grassroots exploration ground along with two advanced or drill-ready target areas; the Julia and San Lucas zones.
La Buena's geology is described as containing numerous quartz-pyrite veinings and have favourable geological settings for intrusion-related gold-silver mineralization.
Specifically, the Julia Zone, where the company will be focusing its initial drilling efforts, has shown exceptional geochemical and geophysical signatures.
The second map attached shows the consistency of gold geochemical anomalies in the Julia Zone where the highest values is above 600 parts per billion (ppb). See attached file.
In order to develop the potential indicated in the La Buena project in this world-class gold mining region, Patriot Minefinders has attracted a group of top geological and mine development talent to the company to lead the growth and exploitation of the project:
John H. Schweitzer, JD CEO, Director -Since June 2004, he has been a partner with the law firm of Stassinopoulos & Schweitzer, APLC. Mr. Schweitzer has been a member of the California State Bar since 1996. He holds a Juris Doctor degree from Thomas Jefferson School of Law and a Bachelor of Arts degree in human communication from San Diego State University.
Prior to his law partnership, Mr. Schweitzer served on active duty as an officer with the United States Marine Corps in support of Operations Enduring and Iraqi Freedom. Prior to the Marine Corps, Mr. Schweitzer was employed by two major private banking firms (Merrill Lynch Trust Company of New York and Northern Trust Bank, respectively) as corporate trustee and vice president where he specialized in international tax and trust agreements; family foundations; charitable planning; planned giving collaboration with national charities; and, investment compliance issues pursuant to the Prudent Investor Act.
Frederick J. Sveinson, P.Eng. Director - is a professional mining engineer with more than 40 years experience in the development and operation of underground mines from 100 to 2,000 tonne per day in Africa, the United States, South America and Canada, including the Arctic. His senior positions have included: GM of Echo Bay's Lupin and Sunnyside operations and VP of Tonto Mining and Dynatec Mining.
Mr. Sveinson is currently working as a Consulting Mining Engineer providing services to the mining industry and is a Director of a number of private and publicly traded mining exploration and development companies including Banks Island Gold and Tirex Resources.
Dr. Perparim Alikaj, Ph.D Director - is an internationally recognized geophysicist who is credited with the invention of Real Section Induced Polarization Voltage Domain Induced Polarization geophysics. The largest ore deposit discovered with Real Section IP technology is the San Nicolas VMS deposit in Mexico containing 83 million tonnes of copper, zinc, silver and gold mineral reserves.
Dr. Alikaj is an experienced mineral exploration professional having worked on over 200 exploration projects around the world and, in addition to his position as the Head of the Geophysics Section, Department of Earth Sciences at Polytechnic University of Tirana, also acts as the Head of an advisory team for Tirex Resources, Ltd., a Canadian mining exploration and development company that trades on Toronto's TSX Venture Exchange.
Fred Tejada, P.Geo Director - has 30 years of international mineral industry experience and has a proven record working with both major mining companies and exploration-focused organizations. He is currently President of Tirex Resources Ltd., a Vancouver-based public company with near term production projects in Albania.
Prior to this, he was Vice President for Exploration of Panoro Minerals Ltd where he directed resource definition drilling of its two major copper deposits in Peru. For seven years, Mr. Tejada was country manager and president of the Philippine subsidiary companies for Phelps Dodge Exploration Corp with responsibility over corporate matters and exploration activities from project generation, property acquisitions and permitting.
The company will earn a 50% interest in the La Buena project through an agreement in which it will fund, jointly manage the exploration of the project San Marco will continue to be the operator of the project.
Patriot Minefinder shares trade in the United States under the symbol "PROF."
Learn more about Patriot Minefinders at http://www.patriotminefinders.com.
Legal Disclaimer/Disclosure: A fee has been paid for the production and distribution of this Report. This document is not and should not be construed as an offer to sell or the solicitation of an offer to purchase or subscribe for any investment. No information in this article should be construed as individualized investment advice. A licensed financial advisor should be consulted prior to making any investment decision. Financial Press makes no guarantee, representation or warranty and accepts no responsibility or liability as to its accuracy or completeness. Expressions of opinion are those of the author's only and are subject to change without notice. Financial Press assumes no warranty, liability or guarantee for the current relevance, correctness or completeness of any information provided within this article and will not be held liable for the consequence of reliance upon any opinion or statement contained herein or any omission. Furthermore, we assume no liability for any direct or indirect loss or damage or, in particular, for lost profit, which you may incur as a result of the use and existence of the information, provided within this article.