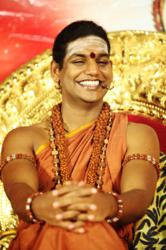 We will also launch Conscious birthing centers. It will be the welcome center for planet earth.
(PRWEB) July 13, 2012
His Holiness Paramahamsa Nithyananda said, "Even in the midst of so much persecution and abuse, my followers are continuously performing. Not only me, even my devotees don't have personality. If one has personality it is impossible to handle the extremes of the societal glare. My devotees are not even liquid personality, they are pure stream."
He added, "We still are sitting on 8000 hours of recorded discourses which is still unpublished. Only 2000 hours of discourses have been published on YouTube/LifeBlissFoundation channel so far."
Now, a special youtube channel called '108NithyanandaVideos' has been launched for 108 unique topics spoken by Paramahamsa Nithyananda. 33 have been uploaded so far.
Paramahamsa Nithyananda also announced, "I am evolving the principle and philosophy of graceful exit homes for people in the last stages of their life. The first center will start in Varanasi, North India. We will teach the spiritual principles, sacred secrets and the truths of continuity of life to give them the courage and transition for beautiful transition and graceful exit.
We will also launch conscious birthing centers in Chennai, India. It will be the welcome center for planet earth. It is aimed at teaching mothers the vedic science of conscious pregnancy and conscious painless delivery."
More information: Contact Life Bliss Foundation: info (at) lifebliss (dot) org
For 250 Free Books by Paramahamsa Nithyananda: https://lifeblissprograms.org/books
Live Streaming of His Holiness Paramahamsa Nithyananda's talks are available on Nithyananda TV at http://nithyananda.tv/.
More information on Paramahamsa's revelations on Kundalini Awakening and the scientific research can be found at http://innerawakening.org/researchonkundaliniawakening
ABOUT HIS HOLINESS PARAMAHAMSA NITHYANANDA:
Videos on Enlightenment Science:
http://www.youtube.com/watch?v=ty1DtDKt-08&feature=plcp
Inner Awakening videos
http://www.youtube.com/playlist?list=PLD5E80C03E360B2F8&feature=plpp
Paramahamsa Nithyananda is not only one of the most watched Spiritual Guru on YouTube, he is ranked as one of the world's 100 most spiritually influential personalities. He has recently inherited the world's oldest and most ancient Hindu Spiritual Organization – the Madurai Aadheenam, by being coronated as the 293rd pontiff of Madurai Aadheenam.
Paramahamsa Nithyananda is a global leader in yoga, meditation, kundalini awakening enlightenment science. Clear, dynamic and modern in approach, Nithyananda's teachings have already transformed 15 million followers in 150 countries with the fastest growing spiritual community around the youngest incarnation.
Paramahamsa Nithyananda has made an indelible mark on the international spiritual scene, attracting educated and committed followers with his engaging way of demystifying the Vedic truths and re-interpreting them in the light of modern living. His down to earth approach to spirituality and his image of a tech-friendly guru, who illustrates the truths of Vedanta using a laptop, and uses modern analogies to instill Vedic values has found him admirers amongst the educated youngsters and their parents alike.