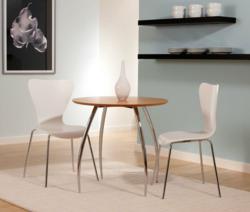 Euro Style has been manufacturing in Italy and South East Asia for over 25 years, it is only natural that Euro Style enter into the Contract Market with our elegance and style that is popular with today's young professionals. -Trig Liljestrand, President
San Rafael, CA (PRWEB) July 13, 2012
Euro Style, the high-fashion RTA wholesale furniture manufacturing company, has announced their expansion into the Contract-Hospitality Market, headed by Chris Morris who has a solid track record and strong professional background in Contract and Hospitality.
Euro Style's up-to-date looks, contemporary design and quality manufacturing at affordable pricing is already receiving orders from major hotel and restaurant chains.
In addition, Euro Style's Contract Division offers the customer the ability to custom design and source products directly from overseas factories. For buyers who require custom private label manufacturing, Euro Style has a staff of designers, on-site quality control and project managers to facilitate all importing.
For further information contact Chris Morris, Director of Sales, Hospitality/Contract:
Tel: (336) 254-0554, email: chris(at)gotoeurostyle(dot)com
ABOUT EURO STYLE

Contract-Hospitality products are available from Euro Style's California warehouse or by container direct from Italy and South East Asia.
Euro Style is a wholesale RTA furniture manufacturing company with factories in Italy and South East Asia. The company's high style products are sold at promotional and medium price points.
Retailers can order Euro Style products from the California warehouse or by factory direct consolidated container programs. The company ships out of its Northern California Warehouse the next business day after orders are placed.