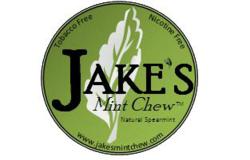 "There is no better time to quit dipping than now, and Jake's Mint Chew can help you do it."

~Jake Sweeney; Jake's Mint Chew Founder
Danvers, MA (PRWEB) July 17, 2012
Jake's Mint Chew, a locally manufactured, all natural mint chew designed to help tobacco users switch to a healthier, fresher dipping option, has finally hit the Big Leagues. Several Major League Baseball clubs interested in keeping their players, managers, and staffs healthy have placed sizable orders with the Massachusetts-based start up with the hopes of initiating a positive trend in professional and amateur sports.
Last year as part of the collective bargaining agreement, Major League Baseball took a monumental first step towards the abolishment of chewing tobacco on the field by prohibiting their players, managers, and coaches from carrying tobacco tins or packages in their uniforms at games or any time that fans are in the ballpark. They will also be prohibited from using smokeless tobacco during televised interviews, at autograph signings, and other events where they meet fans, or at team-sponsored appearances. By offering a wide variety of flavors with organic ingredients, Jake's Mint Chew was the best choice for ball clubs like the Los Angeles Dodgers, New York Yankees, and Baltimore Orioles, who were among the first to make this transition away from harmful chewing tobacco.
For Jake Sweeney, the man behind the Mint Chew, the MLB's proactive move toward tobacco cessation is a home run. "We started Jake's Mint Chew to give people a refreshing, healthy way to break away from the addiction tobacco creates," Sweeney admits, "but we hope that having several Major League Baseball clubs on board with that message will help even more people quit this terrible habit for good."
Since Jake's Mint Chew began two years ago, the company has grown so much that it has begun developing relationships with mint growers from the Pacific Northwest, which will also ensure that they will be ready for the imminent influx of orders from people taking a cue from their Big League heroes. For more information about all seven mouthwatering flavors of Jake's Mint Chew, including their newest flavor, Cranberry, visit http://www.jakesmintchew.com.
About Jakes Mint Chew
Jake's Mint Chew is a non-tobacco, all natural, long cut chew made of mint instead of tobacco, manufactured in Danvers, MA. Jake's Mint Chew packs like real long cut chewing tobacco; not overly gummy like other brands. It's nicotine-free, good for digestion, and leaves users with fresh breath! Jake's Mint Chew is averaging a well over 100% growth rate year over year, nationwide and international, with repeat sales skyrocketing as a result of increased quality control, fulfillment time, and customer service. The company aims to be a vendor for convenience stores across the country in the near future, and established a Recall Program, Company Handbook, Board of Health Certification, and independent lab perishable test to help with this process. Jake's Mint Chew is available in seven delicious flavors: Straight Mint, Wintergreen, Spearmint, Cinnamon, Licorice, Cherry, and now Cranberry.