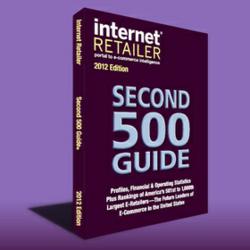 "It's an honor to be mentioned along with other great emerging online retailers by Internet Retailer for a second year in a row."
- Eugene Ku
Orange, CA (PRWEB) July 13, 2012
For the second straight year, Wireless Emporium has been ranked #735 in Internet Retailer's prestigious Second 500 Guide and #149 in the merchandising category for computers and electronics, marking them as a front-runner in the online cell phone accessory space. This announcement comes after another year of steady growth in which the company increased its revenue by more than 25%.
"It's an honor to be mentioned along with other great emerging online retailers by Internet Retailer for a second year in a row. This acknowledgement is a testament to our great service-oriented team who has been working extremely hard to ensure that we continue to create the best possible shopping experience in the wireless and cell phone space" commented Wireless Emporium CEO, Eugene Ku.
Mobile phone manufacturers have been putting out new phones at a faster rate than ever and Wireless Emporium is set to take the lead in this growing sector that will undoubtedly be needing accessories for years to come. By creating a customer-centric experience through every-day free shipping, low prices, and industry leading customer service, Wireless Emporium has been able to put cell phone cases, chargers, screen protectors, Bluetooth headsets and more in the hands of over 1.5 million satisfied customers.
To make the list, Internet Retailer compares financial and operational data, including online sales and growth rates, conversion rates, average order values, monthly traffic, marketing programs, shopper demographics, and social media statistics in order to rank the 1,000 companies. This achievement marks the second straight year that Wireless Emporium has made it to the list which will now hang on the wall next to their other accolades; most notably Red Hearing's North America's Top 100 and the esteemed INC. 5000 list.
About Internet Retailer
Published by Chicago-based Vertical Web Media LLC, Internet Retailer is a monthly national business magazine that is at the core of the leading retail information web site, an e-commerce conference and five directories that serve the retailing community. Internet Retailer's 42,500 subscribers and 250,000 monthly web readers represent senior executives primarily from retail chains, independent stores, catalogs, virtual merchants and brand name manufacturers. Internet Retailer's circulation represents the largest multichannel readership base of any retailing magazine.
About Wireless Emporium
Established in 2001, Wireless Emporium, Inc. is a recognized leader in the cell phone accessories and unlocked cell phones market supplying over 250,000 manufacturer-direct products to consumers, businesses, education and government institutions through a portfolio of leading E-Commerce web sites. Their manufacturer-direct product line includes cell phone chargers, cases, batteries, covers and faceplates, screen protectors, Bluetooth headsets, data connectivity products and unlocked cell phones at discount prices. The company backs every order with a 100% customer satisfaction guarantee, extended manufacturer warranties and free first class shipping, policies which have set them apart from other online retailers and helped earn over 1.5 million loyal customers in the US and Canada.