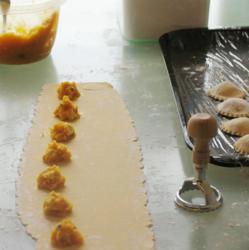 With classes ranging from an hour to couple of days or more, B&B guests can try their hand at something new, explore a passion or work toward achieving a personal goal.
Sacramento, CA (PRWEB) July 16, 2012
Combining travel with learning a new skill can enrich the experiential quality of a vacation, allowing travelers to take home something more than just a souvenir. Members of the California Association of Bed & Breakfast Association (CABBI) offer classes in a variety of subjects: landscape photography, gluten-free pasta-making, viticulture and more. With classes ranging from an hour to couple of days or more, guests can try their hand at something new, explore a passion or work toward achieving a personal goal. Below some of the classes offered at California B&Bs this summer and fall.
From fly-tying to watercolor painting and from medicinal plants to birding, Sorensen's Resort in the High Sierra offers an array of classes to satisfy almost any aspiration. In July and October, guests can study landscape photography from UC Davis professor and photographer Terry Nathan. On July 27, learn wildflower identification on a four-mile hike. Later that weekend, on July 29, medicinal plants expert Dr. Kimball Chatfield will teach guests about healthful plants and flowers. Discover dabblers, divers, and other feathered friends on an early morning walk on August 4. Learn the intricate art of fly tying from a local expert on August 27. In September and October, guests can mine history for tales of the 1849 gold rush. Beginning September 17, the inn hosts a five-day course for capturing the magic of early autumn in the High Sierra with watercolors. A full list of classes with descriptions and pricing are available at http://www.sorensensresort.com/calendar.html. Guests of the Sorensen's Resort receive discounts on the classes. For more information and reservations, call 530-694-2203.
In historic downtown Napa, the Inn on Randolph hosts two-day gluten and allergen-free cooking and baking classes. The classes are taught by Jeffrey Larsen, who is a food stylist, recipe developer, pastry chef and cooking instructor specializing in allergen free cooking and baking. The first day covers alternative grains and flours, recipes for all-purpose flour blends, how to setup a gluten-free kitchen and how to convert favorite recipes to be gluten and allergen free. Day one also includes a three-course appetizer tasting with wine pairing, a tour of Oxbow Public Market and dinner at one of two of Napa's gluten free restaurants. The second day is devoted to gluten-free pasta making, with recipes for egg and vegan pasta. Following the class, participants enjoy the fruits of their labor with a pasta lunch and a gluten-free dessert prepared by Larsen. The next set of classes will be held August 15-16, 2012; contact the inn for fall and winter dates. The price is $600 for double occupancy (two people) or $450 for single occupancy (one person) and includes the two-day course, an Inn on Randolph apron, wine pairing, a gluten free breakfast, lunch and a one night stay in the main house at the newly renovated Inn on Randolph. Guests can upgrade to a cottage for an additional $45. Classes are limited to 14 people. Call 707-257-2886 to make reservations.
Inn on Randolph also offers a two-day wine course in which guests can refine their wine tasting techniques with the help of Marian Jansen op de Haar, a renowned wine consultant, certified sommelier, creator of the Fleming's Restaurant's "Flemings 100" and founder of the wine consulting company, Vines 57. The two-day course starts by covering wine tasting basics and etiquette over wine and appetizers. Guests later practice their newfound knowledge on a wine bar crawl through downtown Napa. The following day, the group heads out for a six-hour tour with Napa Valley Wine Country Tours. Upcoming dates for the two-day wine course include August 9-10, September 6-7, October 11-12 and November 15-16. Spaces are limited and are reserved for Inn on Randolph guests. Please call the Inn to make reservations at 707-257-2886.
In Paso Robles, Carriage Vineyards Bed and Breakfast offers an introductory course for aspiring vignerons. Taught by viticulturalist Larry Smyth, Grape Ed 101 is an hour-long, hands-on course in how to create and maintain a vineyard or olive orchard. Tour the vineyards for a session studying trellis and irrigation systems, variety selection and rootstocks. Participants also learn about soil, weather, pests, water and fertilizer maintenance necessary to produce quality fruit for wine and olive oil. For guests of the inn, the cost is $25 per person with a minimum of two people. For non-guests, the cost is $50 per person. Reservations are required. Call 805-227-6807.
For more information on bed and breakfast inns in California, visit http://www.cabbi.com.