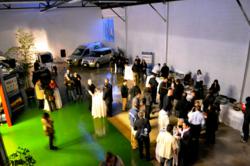 Hula is committed to growing and enhancing the technology innovations and communications in the San Francisco Bay Area Community
San Francisco, CA (PRWEB) July 13, 2012
Hula Networks continues its focus to bring together a collaboration of ideas, techology innovation and continued communications within the San Fancisco Bay Area IT community. Hula Networks has created a series of Happy Hour events to make this possible. Hula has partnered with local service provider Webpass and technology partner Brocade Communications on their 2nd event in the SF city.

Talk to Brocade product managers and see the latest Ethernet switches for 1GbE, 10GbE and 100GbE
Bring your networking questions in a relaxed Q&A environment
Learn how Webpass built a successful business on Brocade technology
This event is co-sponsored by Brocade, Hula Networks and Webpass.
Webpass is a local ISP serving commercial and residential properties in the Bay Area since 2003. Consider Webpass if you need a 200 Mbps residential Internet connection, a 1000 Mbps dedicated business Internet connection, or a private network connecting three offices.
Hula Networks Inc. is a local Value Added Reseller servicing Large Enterprise, Web 2.0, Service Providers, K-12 and lab environments since 2001.
When: Thursday July 19th
4:00 pm – Till
Where: Webpass
262 7th Street
San Francisco, CA 94103
415-233-4100
For More Information
http://www.hulanetworks.com
1-866-HULANET
Hula Networks, Inc. helps customers increase profits, decrease expenses, and mitigate risk for the past 10 years. Hula works hard to increase it's client's productivity and revenues by addressing the gaps in their current communication infrastructure and company procedures.
Hula Networks takes great pride in introducing the right technology to their clients while factoring their specific environmental needs and budgetary restraints into the equation. Hula focuses on designing, installing and supporting the network infrastructure that is best for it's customers needs as opposed to what is best for our original equipment manufacturer partners.
Hula's goal is to deploy elegantly simple solutions that their customers can realistically maintain with their own in-house IT staff. Hula Networks has both the technical knowledge and resources to design, source, configure, implement, and support all of our clients IT needs.