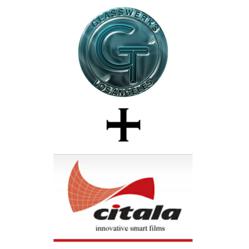 South Gate, CA (PRWEB) July 16, 2012
In an ongoing effort to find unique smart-glass solutions for everything from single-family homes to hospitals, Glasswerks Inc. -- a leader in commercial and architectural glass fabrication -- has partnered with Citala to offer innovative, customized "on-demand" privacy glass.
Glasswerks is proud to announce the inclusion of Citala's Onyx™-based Innovative Smart Films in its Voltage Glass products. With this technology, users can change the translucency of a window in a house or a building from opaque to transparent with the simple flip of a switch.
Citala's proprietary Onyx™ is a unique chemical compound that begins in liquid form and becomes solid when cured. In its "off state," Glasswerks' Voltage Glass with Onyx™ Film is opaque, and in an "on state" (when voltage is applied) the glass becomes transparent.
"This partnership allows Glasswerks to move into a growing segment of the glass marketplace," says James Harris, Citala's Vice President of Sales and Marketing. "Glasswerks also provides customers the opportunity to customize privacy glass in a variety of designs, shapes, sizes, and shades."
For more information on Voltage privacy glass with Citala's Onyx™ Film or to learn more about Glasswerks custom glass products, call Glasswerks at (888) 789-7810 or go to http://www.glasswerks.com.
About Glasswerks Inc.
Glasswerks Inc. is a leading commercial and architectural glass fabricator headquartered in South Gate, California. Glasswerks Inc. produces architectural glazing products, glass furniture, mirrors and decorative glass; specializing in the production and fabrication of laminated, tempered, insulated, bullet-resistant, hurricane-resistant, and high performance low-e glass products. Born out of the competitive construction landscape of Los Angeles in 1979, Glasswerks Inc. operates from eight U.S. facilities located in Southern California, Texas, Ohio, Pennsylvania and North Carolina. Catalina Tempering and Avalon Glass & Mirror are subsidiaries of Glasswerks Inc. Visit http://www.glasswerks.com for more information.
About Citala
Citala is a leading worldwide developer and manufacturer of its proprietary Onyx™-based Innovative Smart Films. Citala's Smart Films serve the Architecture, Automotive and other Specialty Product markets. With superior-quality Smart Films and continuous innovation, Citala is currently focusing on Energy Efficient-based Smart Films. Citala is privately held and headquartered in Tel Aviv, Israel, with a wholly owned subsidiary located in Sunnyvale, California. For more information visit http://www.citala.com.