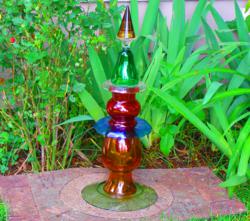 We like to name the larger pieces, its fun.
Eugene, OR (PRWEB) July 14, 2012
Lap of Luxury Lap Desk is branching out! They will now offer lovely in and outdoor glass sculptures made from recycled glassware. With the intention of adding beauty to any garden or tabletop, the new Eugene Glass Recycle will offer candle holders, candy holders, glass flowers, 'sculptures on stix', and large free standing glass art.
"We offer this green product with the hope that our customers will like the addition of glass sculptures to their living spaces and yards," says Kathleen Hogan, owner of Lap of Luxury Lap Desks and glass artist. "They complement our Lap Desks in that both are items of beauty and both promote relaxation."
The glass comes from a variety of sources: second hand stores, garage sales, church bazaars, and donations. All sculptures mix form and color to please the eye. According to Kathleen, "They look easy to make but the difficult part is in seeing how the pieces fit together to create something wonderful. Not everyone has an eye for it."
The sculptures are available on the Lap of Luxury website, however a separate website is under construction.
Since 2005, Lap of Luxury Lap Desks has made products that encourage relaxation and self-support. Adding glass art is just the most recent way of adding fun and beauty to people's lives.