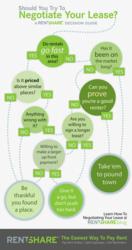 Renters who are able to negotiate their rent can save hundreds of dollars over the course of a year
New York, NY (PRWEB) July 18, 2012
RentShare, a service that makes it easy to pay rent online, debuted an informative guide and infographic on how to effectively negotiate a lease with a landlord.
The guide, which can be found on the company's blog, blog.rentshare.com/negotiate-lease, includes insights from various landlords, offering insider knowledge on what tenants can do to successfully lower their monthly rent payments.
"Most of the renters we spoke with felt uncertain about how and when to negotiate their rent with their landlord," said Catherine Couretas, RentShare Director of Customer Relations. "We set out to get solid insights from landlords and negotiation experts to help renters feel more comfortable and be more successful. With rent prices on the rise, renters who are able to negotiate their rent can save hundreds of dollars over the course of a year."
Along with the guide, a fun infographic is included to help tenants determine whether haggling over the rent price is even worth it depending on their specific circumstances.
ABOUT RENTSHARE:
RentShare.com provides a solution for how to pay rent and split up expenses with roommates in the 21st century. Anyone renting in the United States can pay rent with a credit card, debit card, or checking account through RentShare.
RentShare is headquartered in New York, NY, and can be contacted at contact(at)rentshare(dot)com.