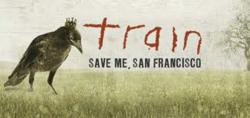 Seattle, WA (PRWEB) July 13, 2012
The Universal Life Church Monastery reports that Scott Underwood, drummer for the San Francisco based band Train, became legally ordained online on June 20, 2012 through their website and plans on performing wedding ceremonies and vow renewals during Train's California 37 Tour. Every ceremony will occur onstage during the award-winning pop group's set and be followed by a performance of "Marry Me", a single from their Gold certified album Save Me, San Francisco.
Train has invited couples to e-mail them with a three minute video explaining how they met and their special connection to Train. Winners of this contest will receive additional tickets to distribute to family and friends and limited edition t-shirts made to mark the occasion.
Rev. Underwood joins a number of other entertainers who have used their ordination to perform high-profile, legally-recognized wedding ceremonies. Professional skateboarder and reality TV star Rob Dyrdek officiated his sister's wedding using ULC materials and sitcom star Fran Drescher got ordained to perform three weddings for the winners of her "Love is Love" contest. Comedian Conan O'Brien performed television's first gay wedding in New York City's Beacon Theatre with his Universal Life Church ordination.
The Universal Life Church Monastery is a non-denominational online church headquartered in Seattle, WA. Anyone can legally become a minister by submitting their information on the ULC Monastery's website. In addition to online ordination, this site also features a catalog for minister supplies, a marriage law database, and a number of articles about how to perform weddings and other religious ceremonies. The Universal Life Church claims to have ordained over 20 million ministers since its was founded in 1977.
For California 37 Tour dates, details about the "Marry Me" contest, and samples of Train's music, please visit Train's official website: http://trainline.com/
Those interested in being married by Rev. Underwood should e-mail the group at weddings(at)savemesanfrancisco(dot)com to enter the contest.
For more information about the ULC Monastery, how to become a minister online, or what is required to perform legally-recognized wedding ceremonies in the US, please visit: http://themonastery.org/