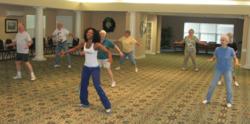 Zumba Gold builds cardiovascular health by challenging the heart and working the muscles of the hips, legs and arms with dance moves.
Suffolk, VA (PRWEB) July 16, 2012
Lake Prince Woods retirement community began offering Zumba Gold classes that take the popular Latin-dance inspired fitness workout and make it accessible for seniors.
Age often brings inactivity and a loss of strength and muscle, cardio endurance, flexibility and balance. The National Institute on Aging believes that, "when older people lose their ability to do things on their own, it doesn't happen just because they have aged. More likely it is because they have become inactive."
Zumba Gold is an exhilarating, effective, easy-to-follow, calorie-burning fitness program for seniors that develops coordination and enhances strength and muscle tone. Zumba Gold is designed to be approachable by all populations, regardless of fitness level. Experience with dance is not required. Moves in class are broken down in a slow and manageable manner.
Alexis Perkins, a licensed Zumbo Gold instructor since 2009, teaches the weekly Zumba Gold class at Lake Prince Woods retirement community. "It's a great work-out for anyone," she said. "Zumba Gold helps seniors and older adults limber up, do safe hip movements, and work on balance and improving muscle strength while keeping beat with great music. I like to call it 'exercise in disguise'," Alexis said with a twinkle in her eye.
She noted what a big difference she sees in participants after they've been in the program a few times. "It raises their spirits. It's a companion experience and they can enjoy being with people similar in age and ability to themselves," she added.
Lake Prince Woods residents have been receptive to the new program which began earlier this month.
"I try not to miss a class," said Ray Hartless, a Lake Prince Woods resident. "I love to dance and I enjoy exercise classes, so this gives me the best of both." His wife, Judene, noted the cardiovascular and endurance benefits she'd seen as a result of the class.
For seniors who may have mobility issues there is a chair version of Zumba Gold. The music and movement of the program also appeals to people who have dementia. "I've had staff members tell me some people will get up and dance when they can't get them to do any other activities," Perkins explained.
Zumba Gold classes at Lake Prince Woods are open to the public. For more information on Zumba Gold or other Lake Prince Woods activities, view our calendar posting at http://www.lakeprincewoods.org.
Lake Prince Woods is a not-for-profit, full service retirement community located on 172 lakeside wooded acres in Suffolk, Virginia. Lifestyle options include cottages, villas and apartments with a safety net of health services available onsite. For more information on Lake Prince Woods call 757.923.5500 or visit us at 100 Anna Goode Way, Suffolk, VA.